British Touring Car Championship
Croft - Race 3 Report - 24/6/12
Jason Plato wins the last race of the day at Croft. Matt Neal ends the 1st half of the season at the top of the championship table but Gordon Shedden is just 1 point behind as the BTCC starts its summer break.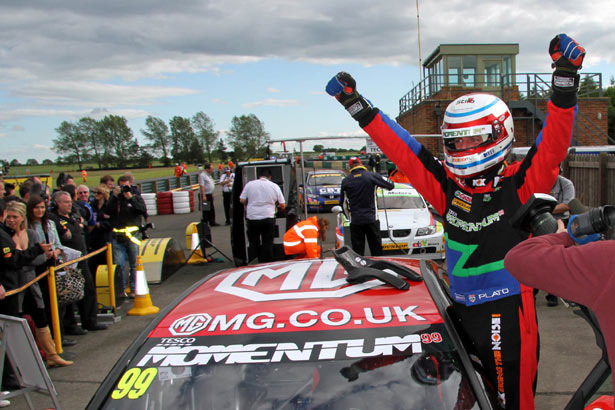 Jason Plato celebrates his victory in race 3
The final race of the day at Croft Circuit found Nick Foster starting from pole position alongside Andy Neate thanks to the reverse grid draw following race 2. Frank Wrathall started from the 2nd row alongside Jason Plato.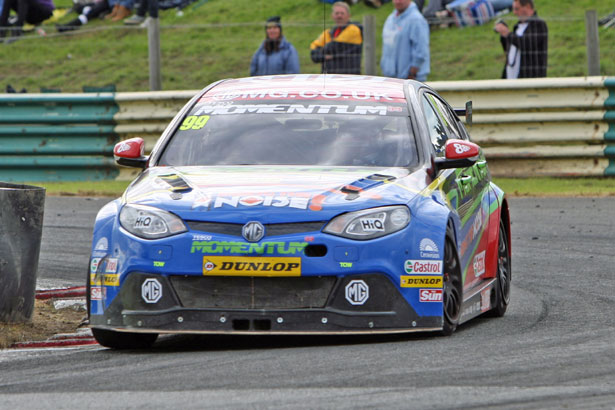 Jason Plato in his MG KX Momentum Racing MG6
Rob Collard once again got a fantastic start in his eBay Motors BMW 320si and moved up to 2nd place from the 3rd row on the grid but was soon re-passed by the MG KX Momentum Racing MG6 of Andy Neate as Collard's team-mate Nick Foster held on to the lead. The safety car was briefly deployed following Tony Gilham's excursion into the gravel trap however Gilham managed to get going again and the racing soon continued.
On lap 3, Frank Wrathall in the Dynojet Toyota Avensis passed Tom Onslow-Cole for 4th place as an intense battle between Gordon Shedden in the Honda Yuasa Racing Team Civic and Rob Austin in the Audi A4 started to develop. A few laps later, Nick Foster dropped from 1st to 5th when he was passed by Andy Neate, Rob Collard, Frank Wrathall and Jason Plato. Liam Griffin in a Redstone Racing Ford Focus and Lea Wood in the BINZ Racing Vauxhall Vectra both hit the barriers and the safety car was deployed again whilst the cars were recovered and marshals dealt with a fuel fire on Griffin's car. When racing resumed, Frank Wrathall was passed by Jason Plato and although he defended his position from further attack, he later ran wide and lost many places.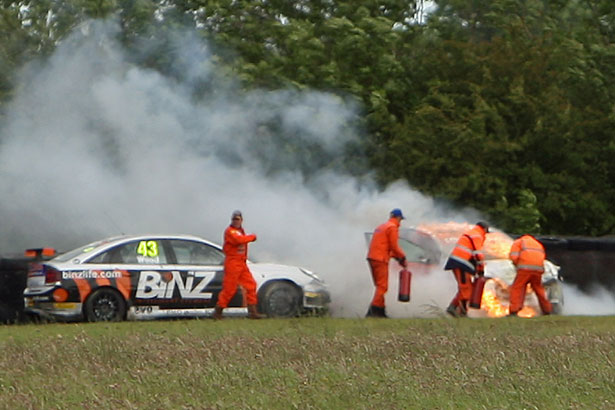 Marshals attending to Liam Griffin's fuel fire
As the race settled down, Andy Neate was still in the lead but with team-mate Jason Plato pushing him hard. Neate finally lost out to Plato on lap 15 and then lost a further two places to Tom Onslow-Cole and Matt Neal which dropped him down to 4th. On lap 16 Andrew Jordan moved up to 3rd place in the Pirtek Racing Honda Civic as Matt Neal dropped from 3rd to 5th.
The race ended with victory for Jason Plato - the 70th of his BTCC career. Tom Onslow-Cole finished 2nd with Andrew Jordan 3rd. Matt Neal came home in 4th place ahead of Rob Collard in 5th and Gordon Shedden in 6th.
As the Dunlop MSA British Touring Car Championship now enters its 7 week summer break, Matt Neal leads the championship but his Honda Yuasa Racing team-mate Gordon Shedden is just 1 point behind. Racing resumes on the weekend of the 11th and 12th of August at the Snetterton circuit in Norfolk. If the second half of the 2012 season is as exciting as the first, we're in for feast of thrilling motor racing!
Touring Car content supplied by MJP Media