Aiden Moffat announces major sponsorship deal with Laser Tools
In a major deal for 2014 and with the option of further years available, Aiden Moffat has partnered with Laser Tools to run the Chevrolet Cruze under the banner 'Laser Tools Racing'.

Aiden Moffat will race under the Laser Tools Racing banner
Warwickshire-based tool distributor and manufacturer Laser Tools have been heavily involved in the touring car world in recent years as one of the title sponsors of James Nash in the World Touring Car Championship and have announced a partnership with BTCC driver Aiden Moffat to contest the Dunlop MSA British Touring Car Championship. This is a major coup for the young Dalkeith driver and comes on top of his deal to be the Daily Mirror and Daily Record driver columnist this year. The car, which is currently undergoing testing, will be formally unveiled in its new livery at the BTCC media day at Donington Park in March.
"We have been watching Aiden Moffat carefully over the past twelve months." said MD of Laser Tools, Martin Smith. "We have had success with WTCC sponsorship over the past few years but have felt that the BTCC series could offer us exciting opportunities. When Aiden announced his plans for 2014 with the NGTC Chevrolet Cruze it was a perfect fit and our partnership with the talented young Scottish driver was formed."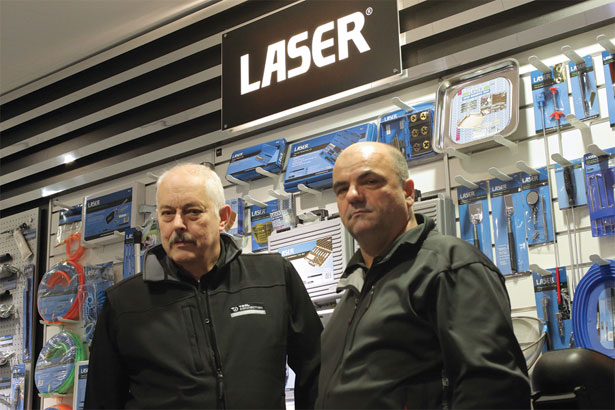 Martin Smith (pictured left) with Bob Moffat
Aiden commented: "I'm very excited to become involved with such a professional outfit as Laser Tools. Laser Tools Racing is my family for the 2014 season and I fully intend to repay their faith in me during the season. We know that with the stunning field that has been assembled in 2014 the BTCC is an amazing place to be and I am sure I can give my sponsors and my fans plenty to cheer about. Bring it on!"
Team Manager Bob Moffat is also excited: "It is clear that we have a potentially very competitive car and with the backing of Laser Tools Racing, a very competitive team - we are confident that Aiden is going to be the driver to watch for the 2014 season. We have been exceptionally careful about who we have partnered with as we want to do the job right. There have been a lot of people who wanted to be on board because they see Aiden as an opportunity, but by working with the likes of Laser Tools Racing and our media partners we can stand shoulder with any other team on the grid and we see this as the way forward for Aiden and the team."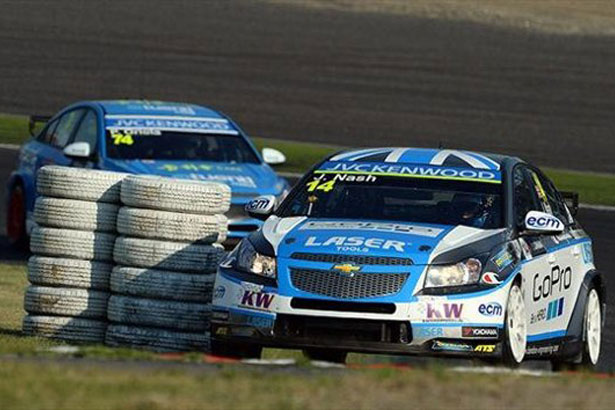 Laser Tools have experience in the World Touring Car Championship
Aiden has a strong history of winning at every level he has contested and recently won no fewer than 6 awards at the Scottish Motor Racing Club Awards including the Driver of the Year Award. Aiden certainly signed off 2013 in style by winning 9 out of the last 10 Scottish Fiesta ST Cup races and scoring championship points in the British Touring Car Championship at both Silverstone and Brands Hatch.
Touring Car content supplied by MJP Media