Sport
Other Sports
Touring Cars
British Touring Car Championship
Croft - Race 2 Report - 29/6/14
By MJP Media | 29 June 2014
Colin Turkington takes another victory at Croft with a second outstanding performance for eBay Motors.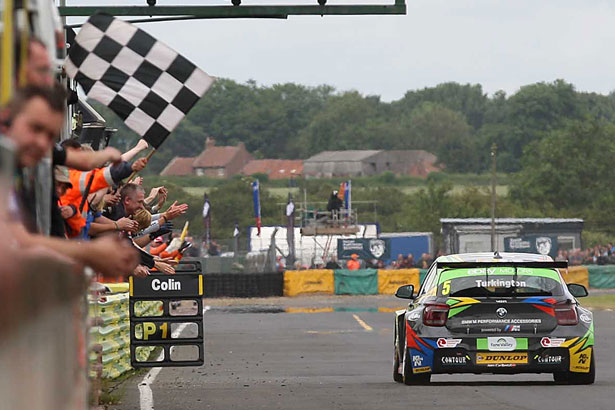 Colin Turkington takes the chequered flag again at Croft
Following his light-to-flag victory in the first race of the day, Colin Turkington started the second race from Croft with his eBay Motors BMW 125i M Sport again in pole position. Joining Turkington on the front row of the grid was Gordon Shedden in the Honda Yuasa Racing Civic Tourer with the MG KX Clubcard Fuel Save MG6 of Jason Plato and the eBay Motors BMW of Rob Collard on row two. Matt Neal and Andrew Jordan started on row 3 with Alain Menu and Mat Jackson on row 4.
At the start, the leaders all got away well, however there was trouble in store for Rob Austin and Dave Newsham. Austin's Exocet Racing Audi A4 made contact with Newsham's AmDTuning.com Ford Focus ST which had bogged down at the start. The Audi spun off the track, collided with an advertising board and retired from the race with suspension damage whilst Newsham managed to complete only 2 laps before retiring. This was certainly not the result Newsham had wanted as it marked his 100th BTCC race start since his début at Brands Hatch in April 2011.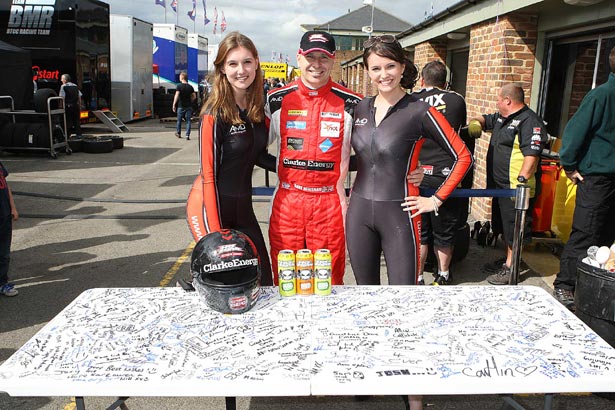 Dave Newsham's fans signed his table to celebrate 100 BTCC races
Defending BTCC champion Andrew Jordan managed to pass Matt Neal on the 1st lap, however Neal regained the position on lap 2. Jason Plato also lost out on the 1st lap, being passed by Rob Collard for 3rd place. Meanwhile at the front of the field, Colin Turkington was once again in full control of the race with Gordon Shedden 2nd. Shedden soon started putting pressure on Turkington however the eBay Motors driver once again proved too difficult for Shedden to pass whilst defending from Rob Collard.
Behind the leaders, the battle for 4th place was developing between Jason Plato, Matt Neal and Andrew Jordan with Neal passing Plato for the position on lap 5. Plato lost another place to Jordan on lap 7 before falling into the clutches of Alain Menu in the Chrome Edition Restart Racing Volkswagen CC. By lap 11, Matt Neal has passed Rob Collard to take 3rd place and at the front, Colin Turkington was building a significant lead over 2nd placed Gordon Shedden.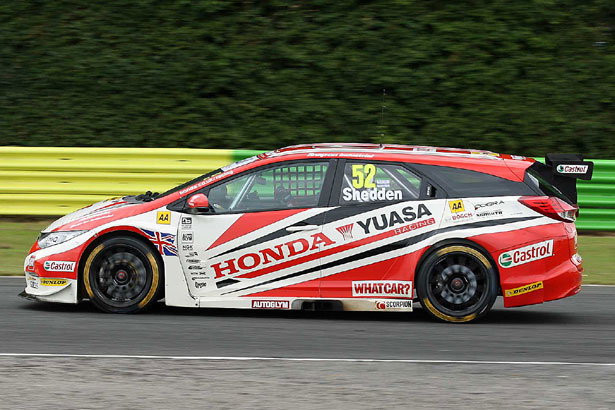 Another solid 2nd place result for Gordon Shedden
In the closing laps, Jason Plato came under increasing pressure from Alain Menu and on lap 14, the Swiss driver finally managed to pass Plato to take 6th place, however as soon as he had passed Plato, Plato's MG6 tapped the rear of Menu's Volkswagen CC, sending it off the track, into the barriers and out of the race. The race ended with another resounding victory for Colin Turkington and eBay Motors with Gordon Shedden and Matt Neal 2nd and 3rd for Honda Yuasa Racing. Rob Collard finished 4th with Andrew Jordan 5th and Jason Plato 6th.
Airwaves Racing's Fabrizio Giovanardi made the reverse grid draw for the final race of the day from Croft and as luck would have it, drew his own number, gifting himself pole position. The Italian racer will start alongside Tom Ingram in the Speedworks Toyota Avensis. Sam Tordoff and Mat Jackson will start on row 2 with Jason Plato and Andrew Jordan on row 3. Can Colin Turkington make it 3 out of 3 from 10th on the grid? We'll find out very soon!
UPDATE
Shortly before the start of the final race of the day it was announced that Matt Neal had been excluded from the results of the second race for failing a ride height check and would have to start race three from the back of the grid. It was also announced that Jason Plato had received a 10 place grid penalty for his move in race two that sent Alain Menu off into the barriers. With Neal's penalty, the reverse grid for the final race saw Jack Goff in pole position for RCIB Insurance Racing with Fabrizio Giovanardi 2nd. Tom Ingram started on row 2 alongside Sam Tordoff with Mat Jackson and Andrew Jordan on row 3.
Touring Car content supplied by MJP Media