The Inside Track with Power Maxed Racing: Josh Cook turns up the heat at Rockingham
By Power Maxed Racing / MJP Media | 14 September 2015
Rockingham proved to be a break-through weekend for Josh Cook as he took his maiden BTCC podium.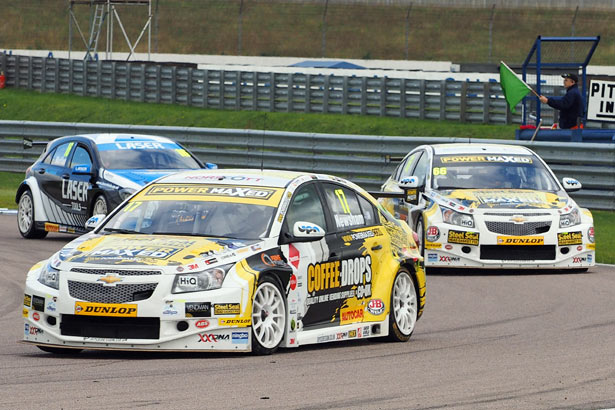 Dave and Josh on track at Rockingham
Many in the paddock have described Josh as a 'rookie sensation' and he enjoyed his own break-through weekend at Rockingham last time out. At just 24, he grabbed his first ever Dunlop MSA British Touring Car Championship podium in race two to enhance the team's already growing reputation in this, our maiden season.
It was an impressive turnaround from a difficult time for the team and their Chevrolets a couple of weeks earlier at Knockhill. "We knew we wouldn't be overly strong at Knockhill compared to the smaller hatchbacks." said Josh. "It was very difficult for us there but equally we were confident we would have a good package for Rockingham. The circuit is fast and flowing, with a couple of hairpin corners, plus I had also had a recent test at Donington Park."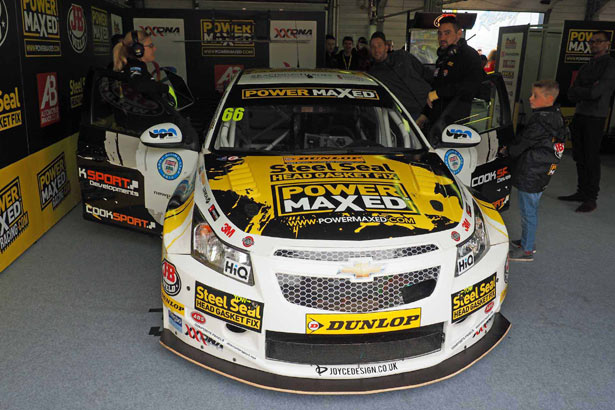 Josh's Chevrolet Cruze in the pit garage
Saturday at Rockingham was an incredibly close affair, culminating in a qualifying session that saw the top 19 cars covered by just three quarters of a second. Josh was right in the mix. We showed great pace in FP2, really strong over a race distance. Qualifying was a tough one though. We're sure we weren't the only ones but we had set our two fastest sectors when the red flag came out and that was that. We probably should have been in the P6-P8 area but we had to settle for 12th for Josh and 16th for Dave in the end.
Josh said: "Qualifying is insanely competitive but I feel like I've been dialled in as a driver. I'm not fazed by the process. Back in Clios I went out, set a time and then sat in the pits for the rest of the session with pole position, so I feel like I know how to get the job done, but it is really tough at this level. It's something we're working on as a team, but maybe we just don't quite have the car underneath us for qualifying."
Sunday saw the Chevrolets make rapid progress up the order. Josh had a great start and seemed to be up to P5 before we knew it, which helped to forget qualifying. He was fighting with Tom Ingram initially and it was really enjoyable. Thankfully he was able to set a decent lap time before the soft tyres started to go off. Fortunately it worked out as we had no weight and the right compound for the next race and maybe we wouldn't have been able to produce the surge through the field without that. As a team we were disappointed with Dave's 12th and Josh's 13th places.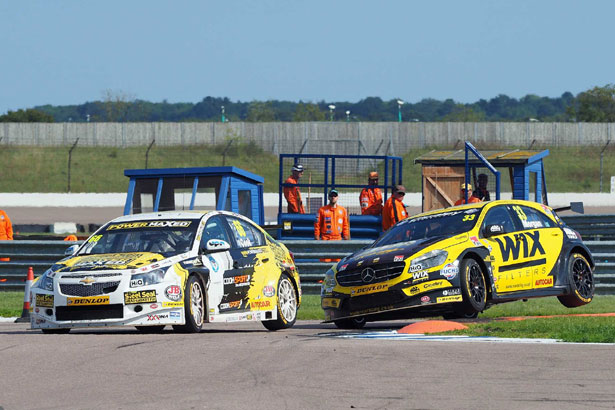 Josh passes Adam Morgan for 3rd place
Race 2 saw Dave being dumped out of the race with accident damage whilst Josh starting in P14 fought his way through the field to claim that magnificent podium for us. We loved every minute of that race and the celebration was immense. Josh said: "My plan was simply to get through the first few laps without damage and keep out of trouble. I looked after the car and I was able to pick my way past a number of rivals, particularly those that ran the soft tyre. I knew where they would be vulnerable as I'd had the same issues myself in race one. The fight with Adam was great. I could see he was struggling on the brakes in particular areas and we ran side-by-side through the penultimate corner and he sort of pushed me out wide on the exit. I could have pushed back but I just thought I'd regroup and go again. I didn't realise it was the last lap to be honest so I didn't plan for it to be as dramatic as it was! It was great a moment though and testament to everyone involved."
Race 3 was more forgettable as Josh only achieved 10th and Dave was again forced out with accident damage. It was a really tough day for him. It has been a notable debut campaign for the team and Josh has now reached an unassailable points lead in the Jack Sears Trophy standings for 2015's crop of rookies. Josh is particularly pleased to be keeping the trophy in the Power Maxed Racing camp as stable-mate Dave Newsham won it last year. We'll see you all at Silverstone, folks!
Power Maxed Racing
Touring Car content supplied by MJP Media