Sport
Other Sports
Touring Cars
British Touring Car Championship
Oulton Park (Island) - Race 1 Report - 5/6/16
By MJP Media | 5 June 2016
Colin Turkington takes a maiden BTCC victory for Subaru in the first race at Oulton Park with Jason Plato making it a 1-3 finish for Silverline Subaru BMR Racing. Sam Tordoff finishes 2nd for Team JCT600 with GardX.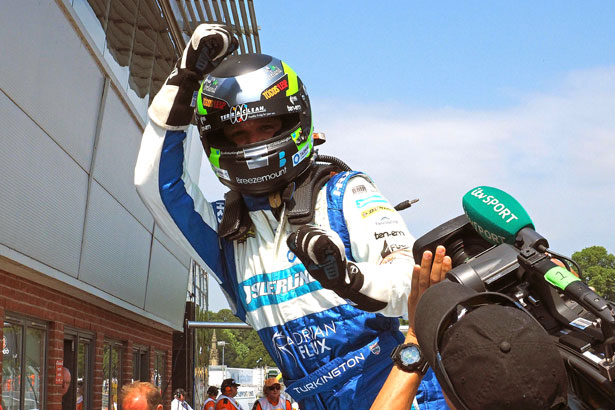 Colin Turkington wins the first race of the day from Oulton Park
In an amazing turnaround of fortune for Silverline Subaru BMR Racing it was Colin Turkington who topped the timesheet in yesterday's qualifying session to put his Levorg GT on pole for the first of the day's three races from the picturesque Oulton Park circuit in Cheshire. BTCC new-comer Daniel Lloyd also impressed during qualifying to join Turkington on the front row of the grid in his Eurotech Racing Honda Civic Type R. Sam Tordoff started on row two alongside Tom Ingram with Gordon Shedden and Jason Plato on row 3.
With a track temperature of 40 degrees and carrying no success ballast, Colin Turkington got a good start to the race while Daniel Lloyd lost out to Sam Tordoff in the Team JCT600 with GardX BMW 125i M Sport. Lloyd then immediately came under attack from Gordon Shedden's Halfords Yuasa Racing Honda Civic Type R. With Tordoff defending from Shedden, Turkington was able to extend a slight lead at the front. On lap 2, Lloyd lost 3rd place to Shedden and started to fall into the clutches of Jason Plato for 4th place.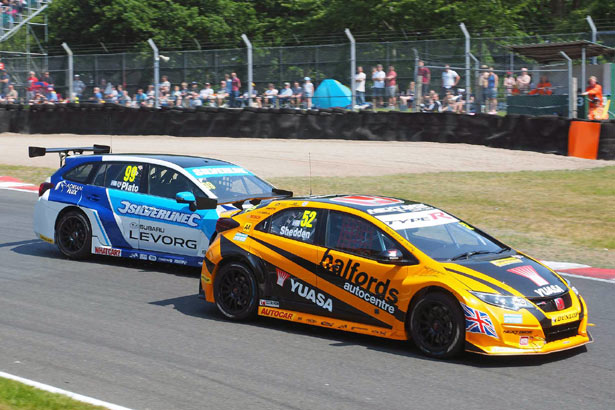 Gordon Shedden defending 3rd place from Jason Plato
Daniel Lloyd was still fighting hard and posted the fastest lap of the race so far on lap 3 however Jason Plato was also on a charge and went faster on lap 4. With the front-runners settled, an exciting mid-field battle was developing between Rob Austin and Aiden Moffat with Martin Depper, Jeff Smith and Mat Jackson also in the mix. Austin and Moffat battled hard but fair for track position for several laps.
By lap 7 Gordon Shedden was falling away from leaders Colin Turkington and Sam Tordoff while defending his position from Daniel Lloyd however Lloyd was being chased by Jason Plato for 4th, eventually losing the place, allowing Plato to start challenging Shedden for a podium position. Plato looked for a way past Shedden for several laps, occasionally getting his nose alongside Shedden's car but it was lap 13 before he managed to make the move stick.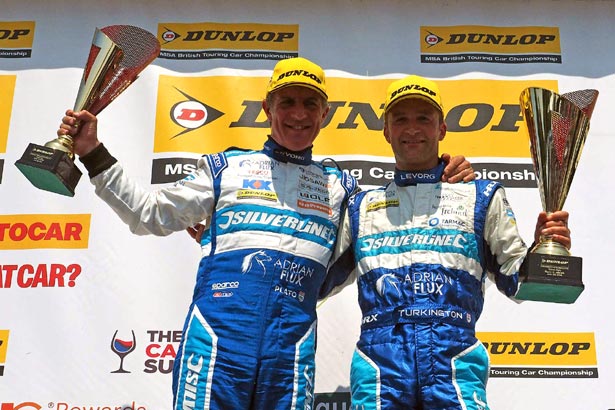 Colin Turkington and Jason Plato give Subaru a 1-3 finish
At the chequered flag it was a victory for Colin Turkington and a maiden BTCC win for Subaru with team-mate Jason Plato making it a 1-3 finish for Silverline Subaru BMR Racing and Sam Tordoff splitting the pair with 2nd for Team JCT600 with GardX. Gordon Shedden finished 4th for Halfords Yuasa Racing with Tom Ingram 5th for Speedworks Motorsport after passing Daniel Lloyd on the final lap. Josh Cook, Aron Smith, Matt Neal and Andrew Jordan completed the top ten.
There was drama on the slowing-down lap when Warren Scott's Subaru Levorg GT suffered an engine fire however preliminary investigation pointed to an oil leak rather than the high pressure fuel rail problem that affected James Cole's car at Donington and caused the team to withdraw all its cars from the Thruxton meeting. Scott expects to have his car repaired and out for the second race where Colin Turkington will start in pole position alongside Sam Tordoff with Jason Plato and Gordon Shedden on row two of the grid.
Touring Car content supplied by MJP Media