British Touring Car Championship
Knockhill - Qualifying - 13/8/16
By MJP Media | 13 August 2016
Jason Plato tops the time sheet in the qualifying session at Knockhill to secure pole position for his 500th BTCC race tomorrow as Gordon Shedden suffers with technical problems.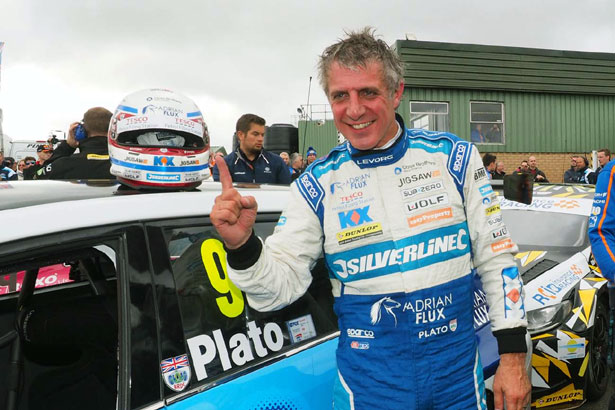 Jason Plato takes pole position for his 500th BTCC race
With Jason Plato and Tom Ingram topping the time sheets in the free practice sessions, attention now fell on the qualifying session for the first of tomorrow's Dunlop MSA British Touring Car Championship races from Scotland's Knockhill circuit. Owing to the relatively short lap distance and the tight, twisty nature of the circuit, qualifying at Knockhill is particularly important in order to secure a favourable grid position.
With their cars carrying success ballast based on current championship positions, the drivers took to the 1.27 mile circuit with the West Surrey Racing prepared BMWs first out of the pits. After the initial laps when cars pitted to have their tyres rotated, it was Silverline Subaru BMR Racing's Jason Plato who set the first meaningful lap time ahead of Jack Goff and Colin Turkington before Motorbase Performance team-mates Andrew Jordan and Mat Jackson went to the top of the time sheet.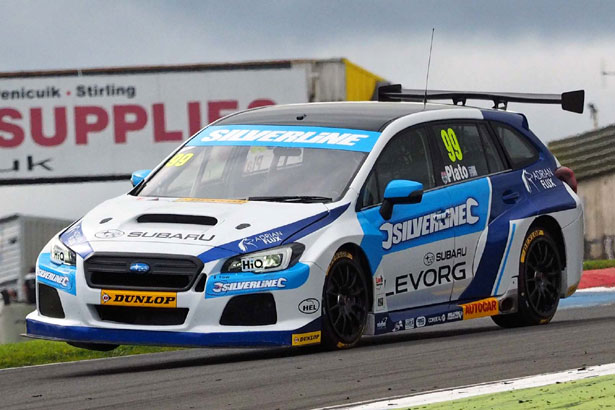 Jason Plato in his Silverline Subaru BMR Racing Levorg GT
Tom Ingram in the Speedworks Motorsport Toyota Avensis then went fastest as Ollie Jackson hit the barriers in his AmD Tuning.com Audi S3 which temporarily halted the session as his car was removed from the circuit. The session resumed with 22 of the 30 minutes remaining, however local hero Gordon Shedden was having problems with his Halfords Yuasa Racing Honda Civic Type R in the pits with boost issues. The defending BTCC champion re-joined the action a few minutes later.
Tom Ingram was the first driver to break the 52 second lap time, topping the time sheet ahead of Team IHG Rewards Club's Jack Goff and Silverline Subaru BMR Racing's Colin Turkington. With half the session completed, Jason Plato went fastest with a 51.961 second lap as Colin Turkington moved up to 2nd. Meanwhile, Gordon Shedden was still having boost problems with his car and returned to the pits for further attention from his team.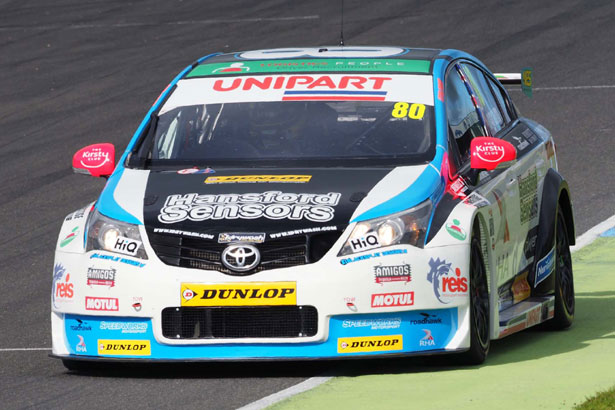 Tom Ingram will start on the front row of the grid after qualifying 2nd
Matt Neal, who had been languishing in the lower order, went 4th fastest behind Adam Morgan who was now 3rd in his WIX Racing Mercedes Benz A-Class. Sam Tordoff in the Team JCT600 with GardX BMW 125i M Sport then went fastest with a lap time of 51.551 seconds, just 0.069 seconds ahead of Jason Plato. The session was red-flagged with 4.5 minutes remaining to allow for the recovery of Jeff Smith's Eurotech Racing Honda Civic Type R.
With Gordon Shedden's car still experiencing problems, the session restarted for a last chance shoot-out. Shedden managed to climb from 16th to 9th but continuing boost issues prevented further gains. Tom Ingram then took provisional pole with a 51.542 second lap time, however a final push from Jason Plato secured a 51.521 second lap time and pole position for the first race tomorrow which will be Plato's 500th BTCC career start. Tom Ingram ended the session 2nd fastest and will join Plato on the front row of the grid with Sam Tordoff and Jack Goff on row two. Row three will see Colin Turkington and Andrew Jordan with Matt Neal and Adam Morgan on row four. Gordon Shedden finished 11th fastest behind Rob Austin in 9th and Dave Newsham in 10th.
Touring Car content supplied by MJP Media