British Touring Car Championship
Brands Hatch (GP) - Race 2 Report - 2/10/16
By MJP Media | 2 October 2016
Colin Turkington does the double at Brands Hatch with another lights-to-flag victory in the penultimate race of the year.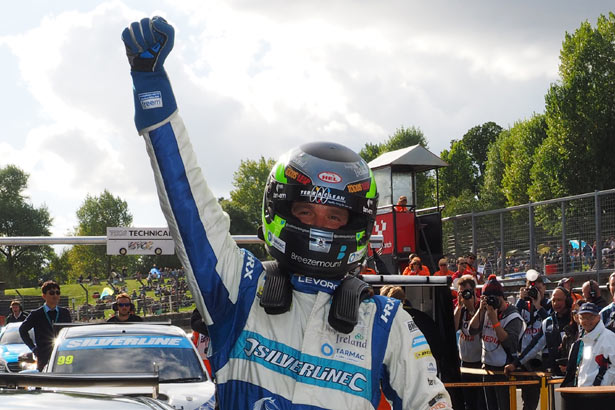 Colin Turkington enjoys another victory
With the grid for the 2nd race of the day being determined by the results of race 1, Colin Turkington's Silverline Subaru BMR Racing Levorg GT lined up for the penultimate race of the year in pole position alongside the Handy Motorsport Toyota Avensis of Rob Austin. Josh Cook started on row 2 alongside Jason Plato with Gordon Shedden and Adam Morgan on row 3. Championship contender Matt Neal started on row 4 with championship leader Sam Tordoff on row 5.
Carrying 75Kg of success ballast on board from his race 1 victory, Colin Turkington still managed to get a good start to the 2nd race, as did his team-mate Jason Plato who immediately started to put pressure on Rob Austin in 2nd place. Having lost some of the ballast from the previous race, Sam Tordoff was able to move up the field and by lap 3 was running 7th from 10th on the grid. With Austin defending from Plato, a small train of cars started to form behind them.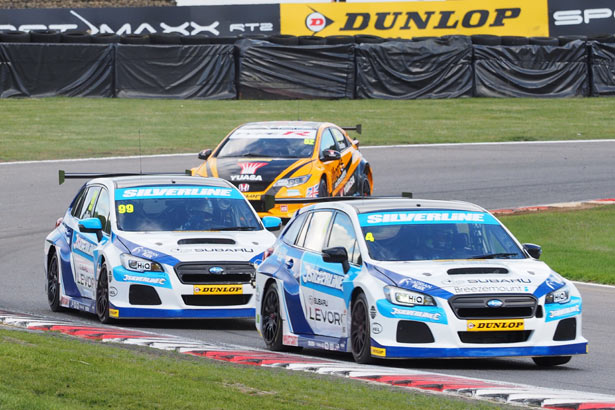 Colin Turkington leads Jason Plato to a Subaru 1-2 victory
On lap 4, the engine of Matt Neal's Halfords Yuasa Racing Honda Civic Type R cut out, causing him to slow down. He then got tagged by one of the MGs on the exit of Druids which caused him to run off the track and hit the barriers, sending his car into a violent spin and leaving it broadside across the track. The Safety Car was deployed in order for marshals and medics to attend the incident.
Racing resumed on lap 7 with Gordon Shedden passing Josh Cook for 4th place to run behind Jason Plato in 3rd. On lap 8, Rob Austin lost two places as first Plato then Shedden got past. At the front, Colin Turkington was joined by team-mate Plato and the pair extended a gap over 3rd placed Shedden. Behind, Austin was being put under pressure from Josh Cook for 4th place.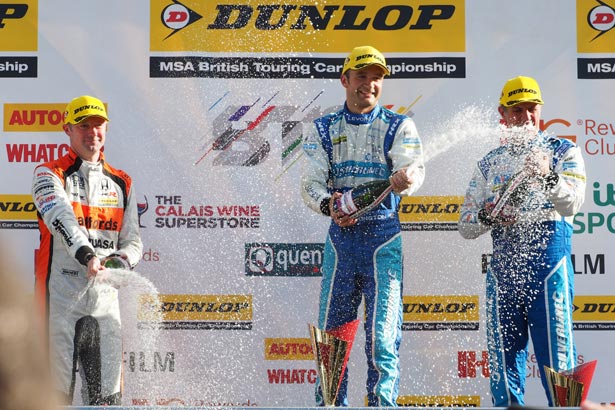 The champagne celebrations from race 2
As the race progressed, Jason Plato started to look for a way past Colin Turkington which allowed Gordon Shedden to close the gap to the Subaru Levorg GTs. When caught by Shedden, Plato had to go defensive which allowed Turkington to break away from the battle for 2nd place. In the closing laps Rob Austin ran wide, losing places and allowing Josh Cook up to 4th. The race ended with another victory for Colin Turkington with Jason Plato 2nd and Gordon Shedden 3rd. Sam Tordoff finished 5th behind Josh Cook to keep his championship campaign on target.
This result brings Gordon Shedden to within 2 points of championship leader Sam Tordoff as the title battle goes down to a 4-way shoot-out in the final race of the year. Currently 3rd in the standings, Colin Turkington is 10 points off the lead with Matt Neal 20 points adrift and 22 points available from race 3. The reverse grid for the last race of the year will see Mat Jackson on pole alongside Aiden Moffat. Sam Tordoff will start on row 2 with Gordon Shedden on row 3 and Colin Turkington on row 4. If cleared to race, Matt Neal will start from the back of the grid, effectively ruining his championship hopes.
Touring Car content supplied by MJP Media