Sport
Other Sports
Touring Cars
British GT Championship
Johnston and Adam claim the British GT3 crown at Donington Park
By MJP Media | 11 September 2016
Black Bull Ecurie Ecosse's Alasdair McCaig and Rob Bell win in the British GT showdown at Donington Park. Derek Johnston and Jonny Adam claim the GT3 drivers' and teams' crowns.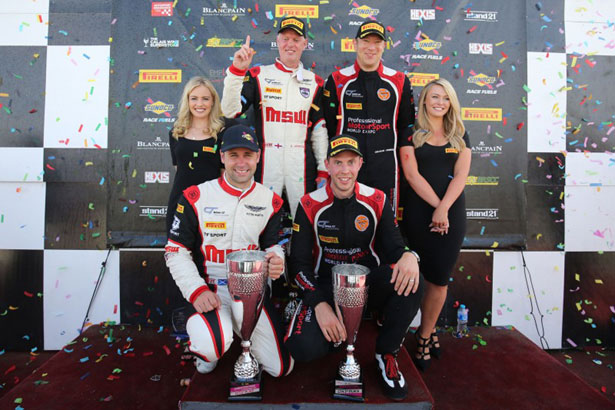 GT3 and GT4 Champions
The TF Sport pair in their number 17 TF Sport Aston Martin V12 Vantage comfortably overturned their 11.5 point deficit in the drivers' standings by finishing 2nd after Jon Minshaw and Phil Keen, the championship leaders coming into the event, crashed out with just 35 minutes gone. Team Parker Racing's Rick Parfitt Jnr and Seb Morris completed the podium to seal 3rd in the final standings.
While Johnston claimed the crown at the same venue as he secured his maiden GT3 victory 12 months ago, Adam made British GT history by becoming the first driver to successfully defend his crown in the series' 24-year history. This was also Bell's first British GT victory since he and brother Matt won the GT4 class at Silverstone in 2010, while McCaig picked up his second British GT3 triumph after winning alongside Oliver Bryant at Oulton Park in 2012. It was also the McLaren 650S's second British GT3 victory - its only previous win coming at Silverstone last season - and Black Bull Ecurie Ecosse returned to the top of the overall podium for the first time since winning at Brands Hatch in 2015. Black Bull Ecurie Ecosse and McLaren's final weekend was doubly good after their GT4 entry driven by Sandy Mitchell and Ciaran Haggerty also won its class.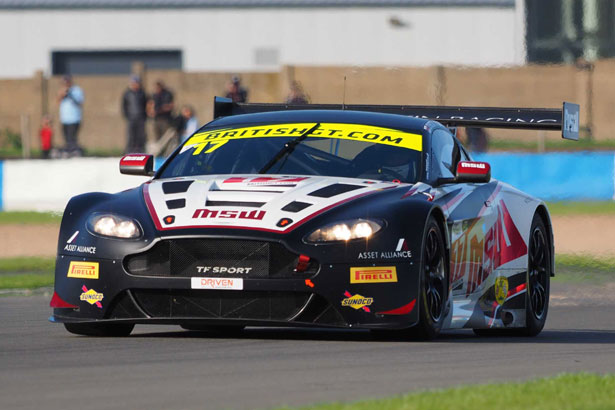 TF Sport's Aston Martin V12 Vantage
The race began with one of TF Sport's Aston Martins in the barriers when Mark Farmer and Liam Griffin came together through the first corner. While the latter was able to continue, albeit with a punctured right rear tyre, Farmer's afternoon was over almost before it had begun. The subsequent Safety Car period lasted just two laps before the battle at the front continued. Pole-sitter Johnston initially came under pressure from fellow front row sitter McCaig, while Minshaw and Parfitt Jnr made it a four-way battle for the lead. But with a 15 second pit-stop success penalty to serve, Johnston had no intention of hanging around and soon started to gap his pursuers.
Meanwhile, the championship leader Minshaw was soon clear of Parfitt Jnr and, with just 15 minutes of his stint remaining, had McCaig in his sights. But, as the pair approached a GT4 car through the Craner Curves, Minshaw moved too far right, planted two wheels on the grass and speared back across the track into the Old Hairpin gravel and out of the race. That changed the championship complexion completely, for although the Barwell Motorsport duo still led the points, they were now relying on Johnston and Adam to finish no higher than seventh in order to win the crown. In truth, that never looked like happening. Johnston completed his exemplary opening stint 17 seconds ahead of McCaig, but the McLaren emerged from its stop - now in the hands of Bell - several seconds ahead. Not that Adam was especially concerned: a new GT3 lap record aside, the Scot was content to stroke his Aston Martin home and eventually finish 8.1s seconds behind Bell's McLaren 650S.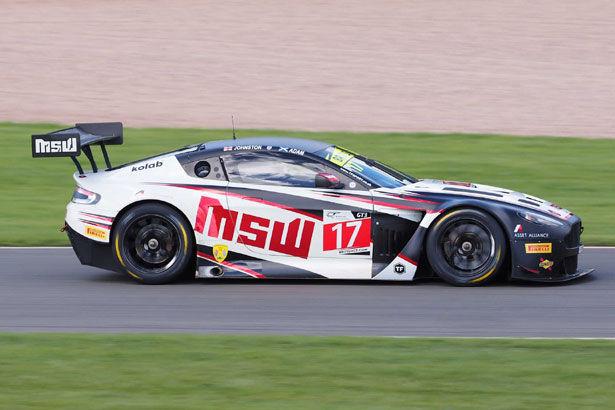 TF Sport's Aston Martin V12 Vantage
Morris, who along with Parfitt Jnr had to win to preserve his slim title hopes, was another 2.5s further back in third, while Beechdean AMR's Rory Butcher and Andrew Howard - whose comeback drive from 11th on the grid earned him the Blancpain Gentleman Driver of the Weekend Award - finished 4th. Barwell's chances of retaining the GT3 teams' title suffered a blow after Minshaw's accident, and Griffin's clash at the start meant they were never likely to recover. Co-driver Alexander Sims eventually brought the #6 Huracan home 5th after passing top Am class driver Martin Short late on. However, the Team ABBA by Rollcentre Racing driver, who shared his BMW Z4 with Richard Neary, still finished an excellent 6th despite also serving a penalty for a pit-stop infringement. The pair can also be proud to have won this season's Am class - reserved for two gentleman drivers per crew - following Rollcentre's decision to re-join the British GT fold at the start of 2016 following a long absence.
Derek Johnston: "I had Jonny in my ear every single lap saying 'gap, gap, gap'! It wasn't about position because I knew I was out front. Even when I saw Jon [Minshaw] had gone off I was still pushing hard. I do love Donington; it's always been good to me, whether I've been racing bikes or cars. But we did it again, and it feels fantastic!" Jonny Adam: "I had never been so disappointed to finish 4th and 2nd as we did at Snetterton, but we knew what we had to do this weekend and have attacked from the word go. People can crumble in these situations, and we saw that today. Derek did the hard work to be fair, but it still felt like the longest stint of my life: 63 minutes of listening to every noise the car was making and just hoping for the best! It's tough on brakes here so I concentrated on monitoring the gaps and generally looking after the car."
Touring Car content supplied by MJP Media