Sport
Other Sports
Touring Cars
British Touring Car Championship
Rockingham - Qualifying - 27/8/16
By MJP Media | 27 August 2016
Gordon Shedden takes pole position in a rain-soaked qualifying session at Rockingham.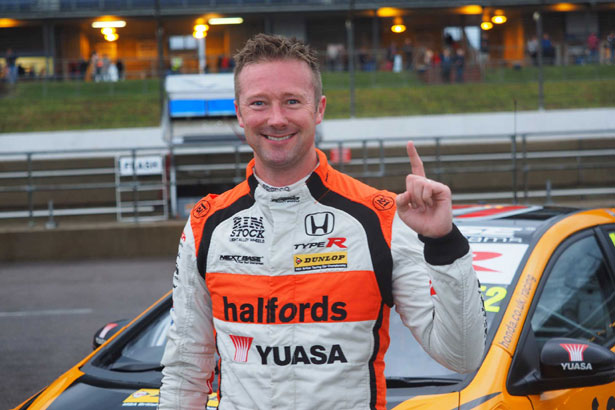 Gordon Shedden triumphed in the rain to take pole position for the first race tomorrow
With Motorbase Performance's Andrew Jordan and Silverline Subaru BMR Racing's Colin Turkington topping the time sheets in the earlier free practice sessions, all eyes were now on the qualifying session at Northamptonshire's Rockingham circuit to determine the grid for the first of tomorrow's three Dunlop MSA British Touring Car Championship races. Finishing 2nd fastest in both the practice sessions, Tom Ingram was keen to continue his good form as were the Halfords Yuasa Racing duo of Matt Neal and Gordon Shedden who were 3rd and 4th fastest respectively in FP2.
The 30-minute qualifying session started with steady rain and a wet track, meaning much of what the teams and drivers had learned in the earlier sessions was of little or no value. Not knowing how the conditions would change during the session, Mat Jackson was the first of many drivers to set an early banker lap of 1:36.973 in his Motorbase Performance Ford Focus with Halfords Yuasa Racing team-mates Gordon Shedden and Matt Neal just behind in their Honda Civic Type Rs. Shedden then went fastest by 4/10ths of a second as the rain got worse.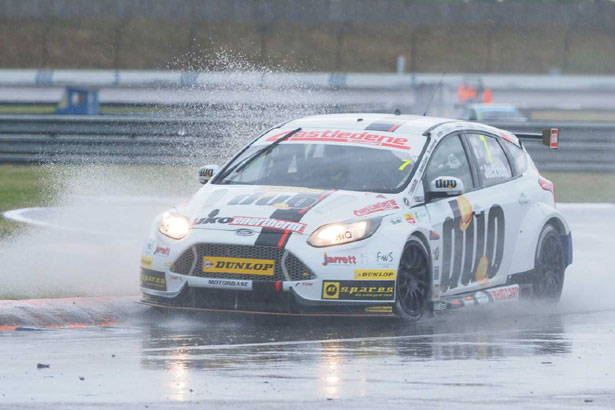 Mat Jackson qualified 2nd in his Motorbase Performance Ford Focus
With 10 minutes of the session completed, Gordon Shedden was fastest with Mat Jackson 2nd and Ashley Sutton 3rd followed by Silverline Subaru BMR Racing team-mates Jason Plato and Colin Turkington with Tom Ingram completing the top six.. Turkington then moved up to 3rd fastest in his Levorg GT. Approaching half time, Tom Ingram's Speedworks Motorsport Toyota Avensis failed a ride-height check which meant that Ingram lost all his previous lap times from the session. Track conditions were now becoming unsafe so with just over 14 minutes remaining on the clock, the Clerk of the Course red-flagged the session, bringing activity to a halt.
After a 10 minute delay the session was restarted however with rain still falling, track conditions remained difficult with several areas of deep standing water on the circuit, particularly in the final sector of the lap. Having had the ride-height adjusted on his car, Tom Ingram went 6th fastest, recovering the ground he lost when his times were previously disallowed. With conditions deteriorating once again, improvements in lap times proved difficult, however with four minutes of the session remaining, Hunter Abbott moved up to 8th fastest in his Power Maxed Racing Chevrolet Cruze.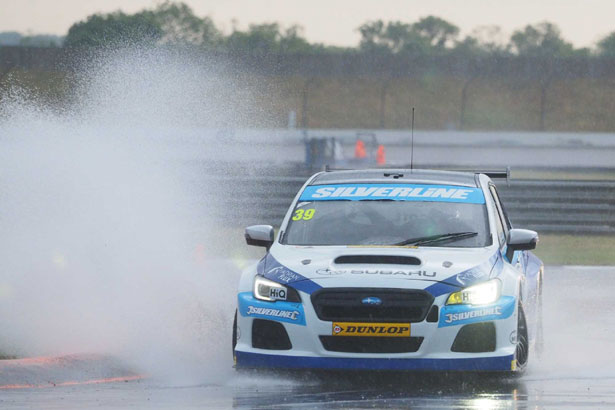 Warren Scott discovering just how wet it was at Rockingham!
In the closing minutes of the session, Jason Plato moved up to 3rd fastest only to lose out to Josh Cook in the MG Racing RCIB Insurance MG6GT who moved from 6th to 3rd fastest, dropping the former BTCC champion down to 4th place. In the final seconds, Gordon Shedden improved his lap time slightly to reinforce his position at the top of the time sheet, claiming pole position for the first race tomorrow. Mat Jackson qualified 2nd and will start alongside Shedden on the front row of the grid with Josh Cook and Jason Plato on row two, Colin Turkington and Ashley Sutton on row three and Tom Ingram and Matt Neal on row four.
The big shock of the session was from the WSR-prepared BMW 125i M Sports which all suffered around the rain-soaked Rockingham circuit. Jack Goff qualified 26th in his Team IHG Rewards Club BMW whilst Team JCT with GardX team-mates Rob Collard and current championship leader Sam Tordoff qualified 27th and 28th respectively. With improved conditions forecast for tomorrow, the BMWs will have their work cut out if they intend to lead the championship at the end of the day. One thing is certain - the scene is now set for a thrilling day of action from the Dunlop MSA British Touring Car Championship. Don't miss it!
Touring Car content supplied by MJP Media