Sport
Other Sports
Touring Cars
British Touring Car Championship
Knockhill - Race 2 Report - 14/8/16
By MJP Media | 14 August 2016
Matt Neal wins the second BTCC race from Knockhill following a thrilling battle for the lead. Sam Tordoff regains the lead in the Drivers' Championship.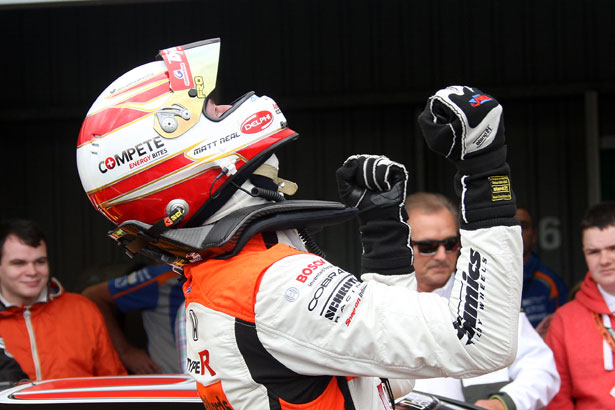 Matt Neal is delighted with his race win at Knockhill
With the grid for race two being determined by the finishing order from race one, Jason Plato once again started in pole position, this time carrying 75Kg of success ballast in his Silverline Subaru BMR Racing Levorg GT. Joining Plato on the front row of the grid was Team IHG Rewards Club's Jack Goff in the BMW 125i M Sport with Colin Turkington and Tom Ingram on row two. Sam Tordoff started on row three alongside Andrew Jordan with Dave Newsham and Matt Neal on row four.
As the lights went out to start Team BMR's 100th BTCC race, the leaders got a good getaway whilst in the mid-field, Martin Depper's Eurotech Racing Honda Civic Type R went off at Scotsman corner and Warren Scott's Silverline Subaru BMR Racing Levorg GT went off at Clark's corner, bringing out the Safety Car on the first lap. Racing soon resumed with race leader Jason Plato controlling the field to get the maximum advantage.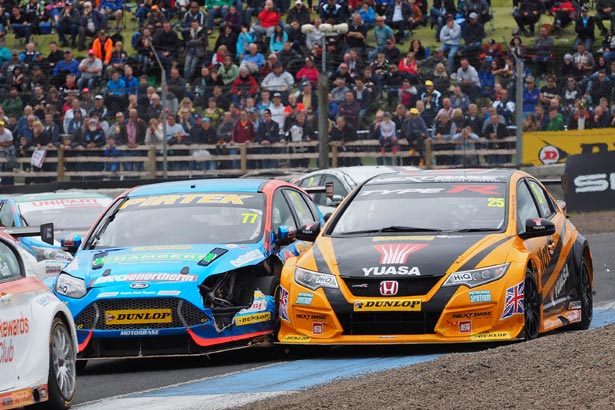 Matt Neal fights his way through the field
Jack Goff immediately came under pressure from Colin Turkington for 2nd place as Sam Tordoff was charging hard behind in 4th. Motorbase Performance's Andrew Jordan and Speedworks Motorsport's Tom Ingram were engaged in an intense fight for 5th place with Jordan taking the position on lap 6. Meanwhile at the front, Jason Plato was unable to shake off the battling Goff and Turkington. Turkington took 2nd place on lap 10 but lost it to Sam Tordoff on the following lap. Tordoff then set about attacking Plato for the lead.
On lap 13, Colin Turkington regained 2nd place and he and Plato extended a slender lead however Sam Tordoff soon reeled them in again, taking 2nd place from Turkington on lap 18. By lap 20, Tordoff was challenging Plato for the lead while defending his position from Turkington. Turkington then ran wide on lap 22 which allowed the Halfords Yuasa Racing Honda Civic Type R of Matt Neal through into 3rd. On the following lap, Tordoff took the lead but lost it again on the start/finish straight.

Podium celebrations for Neal, Tordoff and Plato with Mat Jackson
On lap 24 Matt Neal was the man on the move, taking 2nd place from Jason Plato as Sam Tordoff slipped from 1st to 3rd. On the following lap, Neal took the lead as Tordoff regained 2nd place at the expense of Plato. The race ended with victory for Matt Neal with Sam Tordoff 2nd and Jason Plato 3rd. Colin Turkington finished 4th with Rob Collard 5th and Mat Jackson 6th. Jack Goff, Andrew Jordan, Gordon Shedden and Aiden Moffat rounded out the top ten.
Sam Tordoff now heads the Drivers' Championship but has a lead of only 3 points over Matt Neal while his Team JCT600 with GardX team-mate Rob Collard is now 3rd. With the No. 6 ball being drawn for the reverse grid for the final race of the day, Mat Jackson will start in pole position alongside Rob Collard. Silverline Subaru BMR Racing team-mates Colin Turkington and Jason Plato will start on row two with Sam Tordoff and Matt Neal on row three.
Touring Car content supplied by MJP Media