Sport
Other Sports
Touring Cars
British Touring Car Championship
Snetterton (300) - Race 3 Report - 31/7/16
By MJP Media | 31 July 2016
Gordon Shedden takes a last lap victory at Snetterton after the third race is restarted following a monumental start-line incident. Rob Collard leaves Norfolk leading the Drivers' Championship.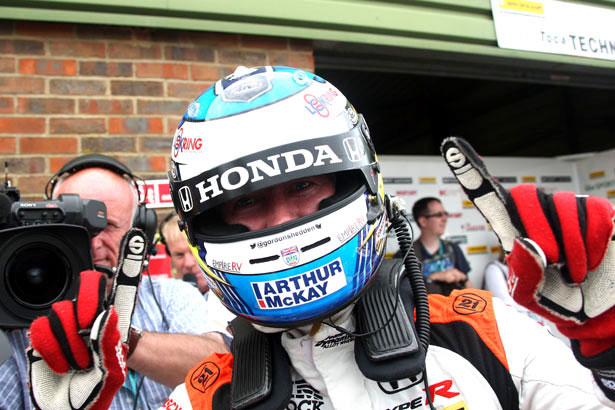 Gordon Shedden wins a dramatic third race at Snetterton
With the number 8 ball being drawn for the reverse grid, race three found Sam Tordoff in pole position alongside Tom Ingram with Jason Plato and Adam Morgan on row 2. Row 3 was taken by Rob Collard and Matt Neal with Colin Turkington and Mat Jackson on row 4. Rob Austin started on row 5 alongside reigning BTCC champion Gordon Shedden.
Off the line there was a horrendous incident as Alex Martin's Dextra Racing with Team Parker Ford Focus got tagged and spun into the pit wall which caused a pile up involving Hunter Abbott, Ollie Jackson and Mark Howard with Abbott rolling over the safety barrier and destroying an ITV camera platform. Fortunately, Phil, the camera man on the tower was able to hobble away from the incident. In a surprising move, the race was restarted, albeit with a reduced 10 lap duration.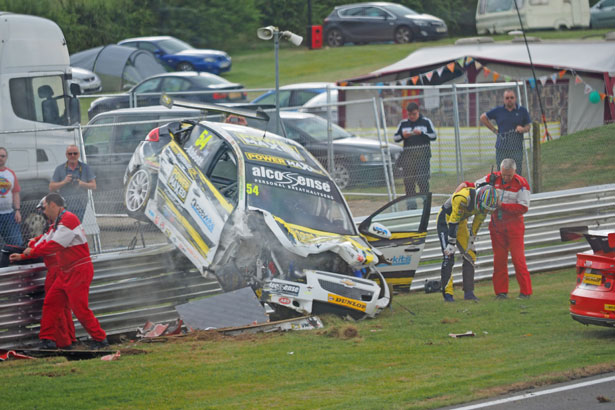 Hunter Abbott's Chevrolet Cruze after his crash
On the new formation lap, there was a massive shock as Sam Tordoff pulled into the pit lane with a broken prop shaft. Off the line, Jason Plato led into the first corner with Rob Austin up to 4th from 9th on the grid. At the end of lap one, it was Jason Plato from Rob Collard with Mat Jackson 3rd, Rob Austin 4th and Colin Turkington 5th. Lap 2 saw Collard take the lead from Plato as he ran wide coming into the back straight and then on lap 3, Gordon Shedden was able to pass Austin for 4th. Then, with a bit of bumping, Plato lost places and at the end of the lap it was Collard from Shedden, with Austin 3rd and Plato 4th with Colin Turkington still in 5th as Mat Jackson was forced to retire after the rough and tumble of the lap.
As the race settled down it was Gordon Shedden setting the fastest laps in his pursuit of Rob Collard. A t the half way stage, he had cut Collard's lead by a second, down to 1.32 seconds. Behind the two leaders, it was Rob Austin from Jason Plato and Colin Turkington with Andrew Jordan 6th, Adam Morgan 7th, Aiden Moffat 8th, Josh Cook 9th and Matt Neal 10th.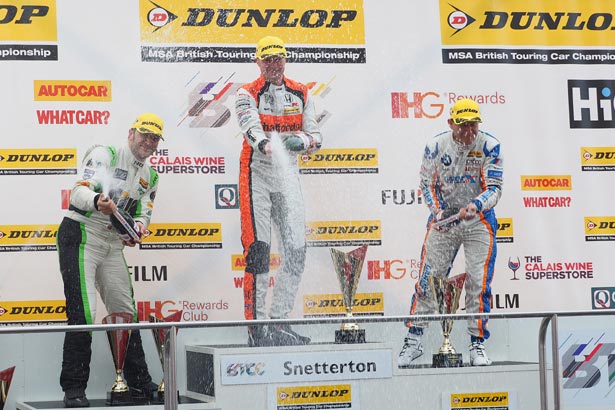 Gordon Shedden takes the top step of the podium after last lap victory
By lap 8, the gap at the front was down to less than a second as Gordon Shedden fought for the lead as Andrew Jordan passed Colin Turkington for 5th place then set about Jason Plato in 4th. With half a lap to go there was drama as Shedden found a way passed Rob Collard as the BMW's tyres went off. Despite a spirited attempt to recapture the lead in which many bits of bodywork were lost, Collard had to settle for 2nd as Shedden claimed victory for the Halfords Yuasa Racing team. Rob Austin took a deserved 3rd with Jason Plato 4th.
Leaving Snetterton, Rob Collard leads the Drivers' Championship by 3 points from team-mate Sam Tordoff with Matt Neal 3 points further back in 3rd place, Gordon Shedden 4th and Colin Turkington 5th. The Dunlop MSA British Touring Car Championship now heads to Knockhill in Scotland in two weeks' time. We will be there on the 13th and 14th August with all the action.
Touring Car content supplied by MJP Media