Sport
Other Sports
Touring Cars
British Touring Car Championship
Snetterton (300) - Race 2 Report - 31/7/16
By MJP Media | 31 July 2016
Mat Jackson wins the second race from Snetterton after lap one chaos forces a red flag and restart.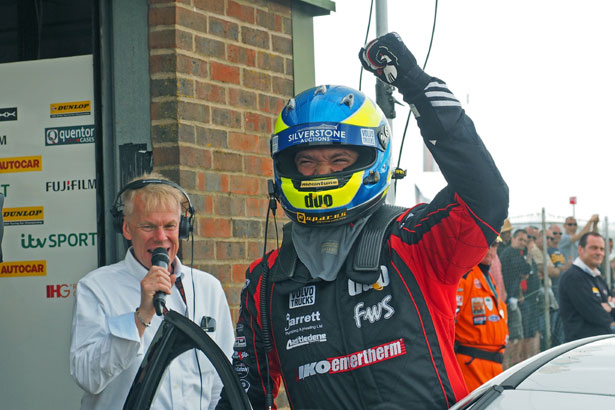 Mat Jackson celebrates his race two victory
With the grid being determined by the results from race one, Colin Turkington started race two in pole position carrying the maximum 75Kg success ballast. Also on the front row of the grid was Gordon Shedden carrying 66Kg success ballast. Mat Jackson and Adam Morgan start on row two with Jason Plato and Tom Ingram on row three and championship leaders Sam Tordoff and Matt Neal on row four. Warren Scott and James Cole lined up on row five.
Under an increasingly overcast sky, the lights went out to start the race however James Cole failed to make the start, his Silverline Subaru BMR Racing Levorg GT suffering a prop shaft failure on the green flag lap. Team-mate Jason Plato got a good start as did Mat Jackson who took the lead at the Wilson hairpin, dropping Colin Turkington to 2nd ahead of Gordon Shedden. With Rob Collard up to 9th from 16th on the grid, the race was red-flagged on the first lap with cars including Dan Welch, Ashley Sutton, Kelvin Fletcher, Aron Smith, Mark Howard, Alex Martin and Ollie Jackson littering the circuit following two separate incidents.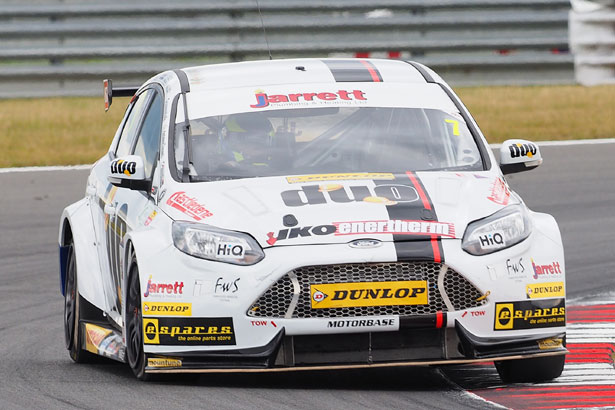 Mat Jackson in his Motorbase Performance Ford Focus
Once the carnage had been cleared, the race was restarted with a reduced race distance of 10 laps however Jack Goff retired his Team IHG Rewards Club BMW 125i M Sport on the new formation lap with a suspected drive shaft failure. Mat Jackson took the lead on lap one of the restarted race in his Motorbase Performance Ford Focus. With Jackson and Turkington out in front Adam Morgan and Gordon Shedden collided several times during some aggressive and enthusiastic racing.
As Mat Jackson and Colin Turkington extended their lead, Rob Collard climbed up to 6th place in his Team JCT600 with GardX BMW 125i M Sport. Meanwhile Gordon Shedden was losing places as his Halfords Yuasa Racing Honda Civic Type R dropped down to 9th by lap three. The next few laps saw an intense battle for 5th place between Jason Plato and Rob Collard with Collard eventually taking the position. Ahead, Matt Neal passed Adam Morgan for 3rd place with Collard soon in the mix.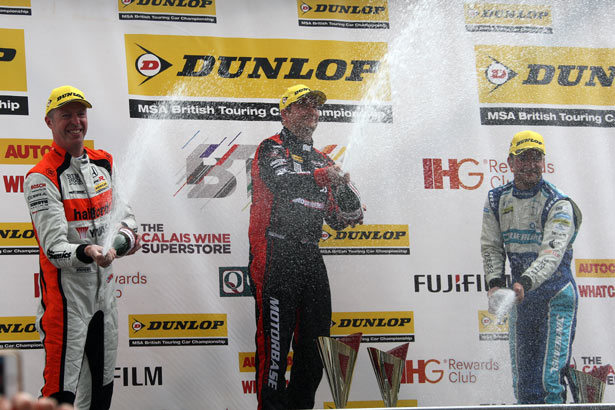 Champagne celebrations for Mat Jackson, Colin Turkington and Matt Neal
After a battle for 3rd and 4th between Rob Collard, Matt Neal and Adam Morgan, the race ended in victory for Mat Jackson with Colin Turkington a solid 2nd. Matt Neal finished 3rd with Rob Collard 4th, Adam Morgan 5th and Jason Plato 6th. Tom Ingram, Sam Tordoff, Rob Austin and Gordon Shedden completed the top ten.
With the number 8 ball being drawn for the reverse grid, race three will see Sam Tordoff on pole alongside Tom Ingram with Jason Plato and Adam Morgan on row 2. Row 3 will be taken by Rob Collard and Matt Neal with Colin Turkington and Mat Jackson on row 4. The scene is now set for a thrilling final race from Snetterton with Sam Tordoff still leading the Drivers' Championship, just 9 points ahead of Matt Neal with Rob Collard a further 6 points behind.
Touring Car content supplied by MJP Media