Sport
Other Sports
Touring Cars
British Touring Car Championship
Snetterton (300) - Race 1 Report - 31/7/16
By MJP Media | 31 July 2016
Colin Turkington wins the first race of the day from Snetterton after a battle with Gordon Shedden. Silverline Subaru BMR Racing get all four cars in the top ten.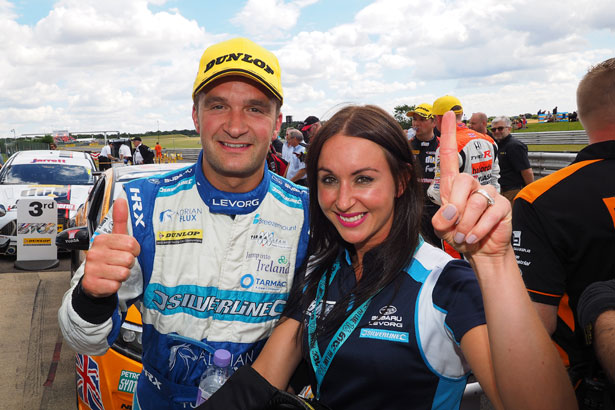 Colin Turkington wins the first race from Snetterton
Although Silverline Subaru BMR Racing's Colin Turkington and WIX Racing's Adam Morgan topped the time sheets in free practice, it was Halfords Yuasa Racing's Gordon Shedden who qualified his Honda Civic Type R in pole position for the first race of the day from Norfolk's Snetterton circuit. Qualifying 2nd, Colin Turkington joined Shedden on the front row of the grid with Adam Morgan and Tom Ingram on row two. Mat Jackson and Hunter Abbott started on row three with Aron Smith and Ashley Sutton on row 4. Former BTCC champion Andrew Jordan started at the back of the grid after failing to set a qualifying lap time due to a power steering failure.
With Motorbase Performance celebrating their 300th BTCC race start, the lights went out to start the first race of the day with both Shedden and Turkington getting away well in the warm Norfolk sunshine. Also getting a good start was Mat Jackson in the Motorbase Performance Ford Focus, moving up to 3rd from 5th on the grid before the end of the first lap, and team-mate Andrew Jordan who wasted no time at all in clawing his way through the field from the back of the grid, despite a brief excursion across the grass.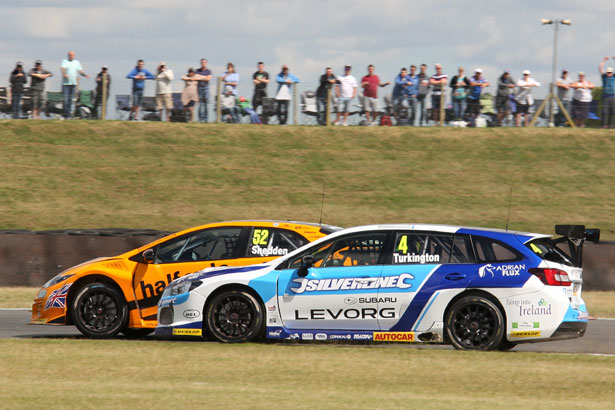 Gordon Shedden loses the lead to Colin Turkington
With the leaders holding their positions, Adam Morgan in the WIX Racing Mercedes Benz A-Class passed MG Racing RCIB Insurance's Ashley Sutton for 4th place on lap 3 while race leader Gordon Shedden came under pressure from an eager Colin Turkington who, unlike Shedden, was not carrying any success ballast. Further down the field, Andrew Jordan continued to steadily make up places.
Colin Turkington continued to put pressure on race leader Gordon Shedden however the Scot defended his position well until lap 8 when the Silverline Subaru BMR Racing driver found an opening and took the lead. Turkington then extended a slender lead over Shedden as, further down the field, Speedworks Motorsport's Tom Ingram took 5th place from Ashley Sutton when Sutton's MG6GT suffered a front left puncture, a fate which his MG team-mate Josh Cook had suffered a few laps previously.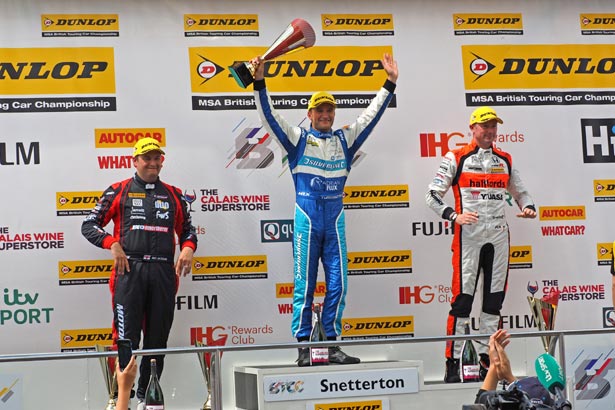 Podium celebrations for Colin Turkington, Gordon Shedden and Mat Jackson
The race ended with victory for Colin Turkington, his third of the year so far, with Gordon Shedden 2nd for Halfords Yuasa Racing. Mat Jackson completed the podium positions with a well-deserved 3rd place ahead of Adam Morgan who finished 4th. Jason Plato finished 5th for Silverline Subaru BMR Racing with Tom Ingram completing the top 6. Sam Tordoff, Matt Neal, Warren Scott and James Cole rounded out the top ten.
The results of Turkington, Plato, Scott and Cole mean BMR equal their historic BTCC record of having four cars finishing in the top ten. If their progress continues for the rest of the season, they could well be challenging for championship honours. With the grid being determined by the results from race one, Colin Turkington will start race two in pole position alongside Gordon Shedden. Mat Jackson and Adam Morgan will start on row two with Jason Plato and Tom Ingram on row three and championship leaders Sam Tordoff and Matt Neal on row four.
Touring Car content supplied by MJP Media