Sport
Other Sports
Touring Cars
British Touring Car Championship
Snetterton (300) - Qualifying - 30/7/16
By MJP Media | 30 July 2016
Gordon Shedden takes pole position in the qualifying session at Snetterton - both his and Honda's first BTCC pole since Donington Park in 2013!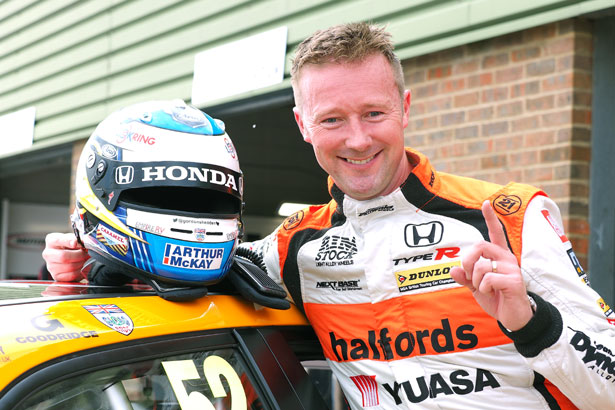 Gordon Shedden takes his first BTCC podium since Donington Park 2013
Following the earlier free practice sessions when Colin Turkington and Adam Morgan topped the time sheets, attention then focused on the qualifying session to determine the grid for the first of tomorrow's three races from Snetterton in the Dunlop MSA British Touring Car Championship. Team JCT600 with GardX drivers Sam Tordoff and Rob Collard arrive at the popular Norfolk circuit at the top of the championship standings with Tordoff leading team-mate Collard by just 12 points.
As in the earlier sessions, it was the BMW 125i M Sports that took to the track first with Team IHG Rewards Club's Jack Goff and Team JCT600 with GardX's Rob Collard leading the way. Making his first appearance on track this weekend, Dan Welch also joined the session in his Goodestone Racing Proton Persona following work on his car during the free practice sessions.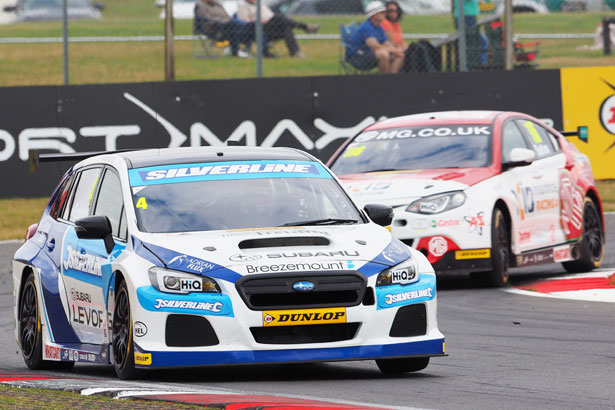 Colin Turkington qualified 2nd to start race one on the front row of the grid
The Silverline Subaru BMR Racing Levorg GTs were the first cars to set flying lap times with Jason Plato leading team-mates James Cole, Colin Turkington and Warren Scott. Cole then went fastest before his time was beaten by Sam Tordoff's Team JCT600 with GardX BMW 125i M Sport. As the lap times tumbled, Halfords Yuasa Racing's Matt Neal and Gordon Shedden went top of the time sheet only for MG Racing RCIB Insurance's Ashley Sutton to subsequently take provisional pole position.
Gordon Shedden had his lap time removed for exceeding track limits but responded by immediately putting in a new fastest lap to top the time sheet again. The Levorg drivers were posting individual fastest sector times but were unable to hook up complete laps until Colin Turkington went 2nd fastest. Jason Plato then had his lap time removed for exceeding track limits. At half time, Gordon Shedden was fastest ahead of Colin Turkington, Adam Morgan, Tom Ingram, Mat Jackson and Ashley Sutton.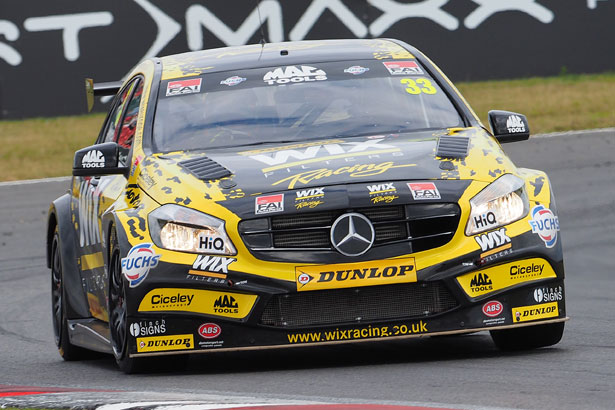 Adam Morgan charging hard in his WIX Racing Mercedes Benz A-Class
Motorbase Performance's Andrew Jordan was fairing less well, his Ford Focus being in the pits with a power steering failure. Unfortunately for Jordan, the failure happened before he had managed to put in a timed lap and although his team worked intensely to repair the fault, the former BTCC champion would sit out the rest of the session and consequently will start the first race tomorrow from 31st on the grid.
In the closing minutes, Adam Morgan was charging hard but was unable to beat Colin Turkington's time, despite improving his own lap time. The session ended with Gordon Shedden qualifying his Honda Civic Type R in pole position for the first race tomorrow and in doing so, recorded both his and Honda's first pole since Donington Park 2013. Joining Shedden on the front row of the grid will be Colin Turkington with Adam Morgan and Tom Ingram on row two. Row three will be taken by Mat Jackson and Hunter Abbott with Aron Smith and Ashley Sutton on row four.
Touring Car content supplied by MJP Media