Sport
Other Sports
Touring Cars
British Touring Car Championship
Knockhill - Race 1 Report - 14/8/16
By MJP Media | 14 August 2016
In his 500th BTCC start, Silverline Subaru BMR Racing's Jason Plato takes a lights to flag victory in the first race of the day from Scotland's Knockhill circuit.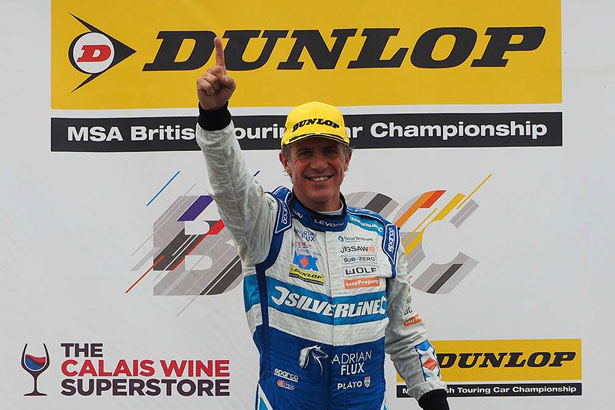 Jason Plato takes victory in his 500th BTCC race
Following yesterday's thrilling qualifying session when a sensational lap in the dying minutes secured him pole position, Jason Plato started the first of today's Dunlop MSA British Touring Car Championship races from Knockhill in pole position. Joining the Silverline Subaru BMR Racing driver's Levorg GT on the front row of the grid was Tom Ingram in the Speedworks Motorsport Toyota Avensis with the BMW 125i M Sports of Sam Tordoff and Jack Goff on row two. Colin Turkington and Andrew Jordan started on row three with defending BTCC champion Gordon Shedden 11th following technical issues yesterday on row 6 alongside fellow Scot Aiden Moffat.
Before race one got under way, a minute's silence was observed to remember double champion Jack Sears who passed away last weekend. To show their respects, the BTCC drivers assembled at the front of the grid and stood by the Jack Sears Trophy which is currently awarded to the most successful rookie driver throughout the season.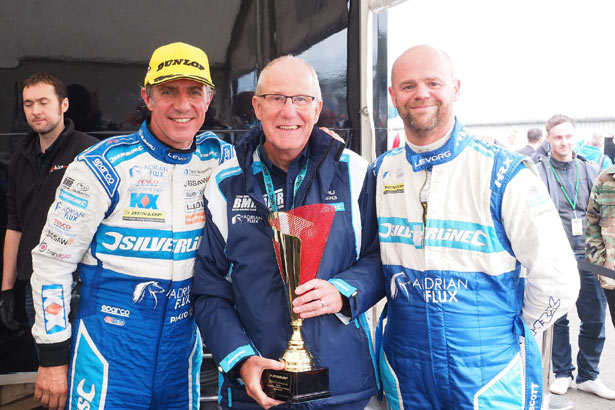 Jason Plato with team boss Warren Scott and Subaru UK's Paul Tunnicliffe
After two formation laps around the 1.27 mile circuit, the racing got under way with all the leading drivers getting good starts as Jason Plato started to build a slender lead over 2nd placed Tom Ingram and 3rd placed Sam Tordoff. The leaders held their positions for several laps until Team IHG Rewards Club driver Jack Goff found a way passed Tordoff on lap 9 to take 3rd place.
With Jason Plato continuing to extend his lead, Jack Goff gained another place, taking 2nd from Tom Ingram on lap 12. The leaders were holding their positions when a red flag situation on lap 20 bunched the field up, negating Plato's advantage. Racing soon resumed with five laps to go with Goff now right on the back of Plato's Subaru Levorg GT and Tom Ingram, Sam Tordoff and Colin Turkington in pursuit.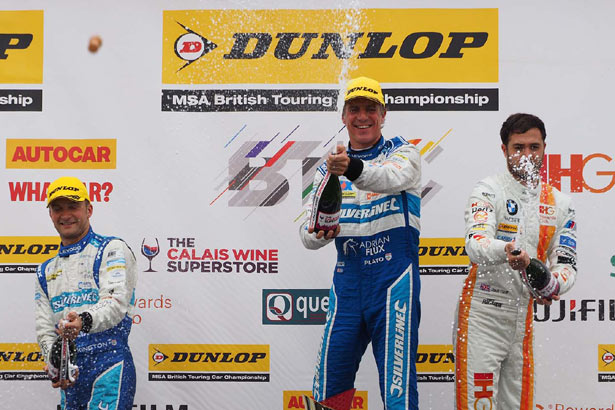 Plato, Goff and Turkington enjoy their podium celebrations
With Jason Plato defending the lead from Jack Goff it was Colin Turkington who was on a charge, taking 4th place from Sam Tordoff before setting his sights on Tom Ingram and a podium finish. Turkington's efforts were rewarded on the penultimate lap as Ingram dropped to 4th. The racing ended with Jason Plato taking his first BTCC win of the 2016 season - a fitting end to his 500th BTCC race. Jack Goff finished 2nd with Colin Turkington 3rd, Tom Ingram 4th, Sam Tordoff 5th and Andrew Jordan 6th. Dave Newsham, Matt Neal, Gordon Shedden and Rob Austin completed the top ten.
With the grid for race two being determined by the finishing order from race one, Jason Plato will once again start in pole position however he will have to carry 75Kg of success ballast in his Subaru Levorg GT which could help Jack Goff and Colin Turkington. Race two will mark Team BMR's 100th BTCC race so another win for the team would be a dream come true for the Hertfordshire-based outfit.
Touring Car content supplied by MJP Media