Sport
Other Sports
Touring Cars
Gordon Shedden and John McGuinness go toe to toe at Knockhill!
By MJP Media | 15 August 2016
Gordon Shedden and John McGuinness take a Honda Civic Type R and a Honda Fireblade around the Knockhill circuit. With Shedden on the Fireblade and McGuinness in the Civic, neither could stop grinning!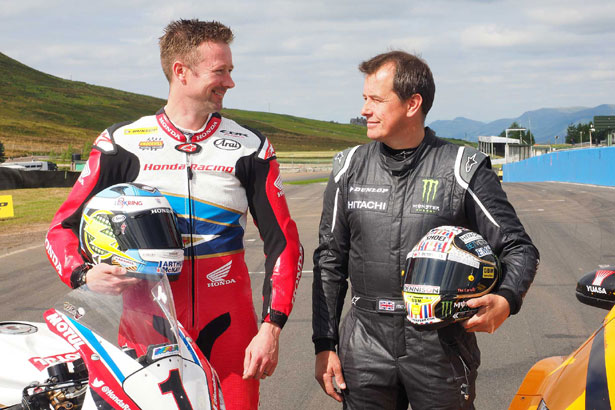 Gordon Shedden and John McGuinness at Knockhill
In a reversal of roles, Gordon Shedden and John McGuinness swapped machinery at Knockhill this week for a unique look at how the other half lives, with Gordon on the Isle of Man TT Honda Fireblade and John in the BTCC Honda Civic Type R and we were granted access to see the fun.
Monday morning dawned bright and sunny at Knockhill racing circuit as two of the most respected names in British motorsport teamed up with a little help from Dunlop and Honda to try something a little different. Double BTCC Drivers' Champion Gordon Shedden is a keen biker and when offered the chance to get on John McGuinness' actual TT race bike he took about 0.01 seconds to say yes! John McGuinness took even less time to agree to drive a BTCC car as he had been a visitor to the series earlier in the season and had expressed a real desire for a test back then at Croft.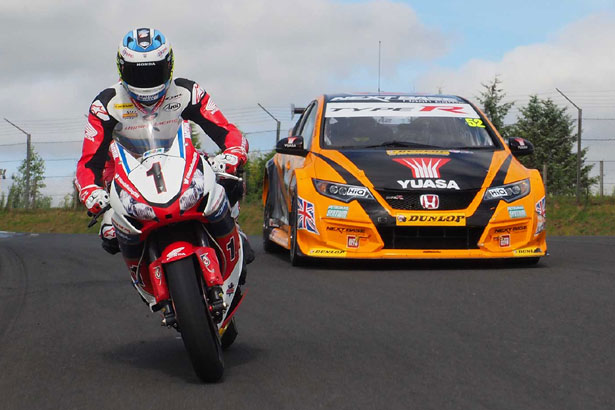 Gordon on the Fireblade and John in the Civic Type R
The big question was not just how they would cope with such different scenarios as the two or four wheel dilemma, but how they would handle the best machines in their respective arenas. John's bike is capable of over 200 mph and he set about a few warm-up laps to check setup with gusto, hitting around 170mph in a wheelie under the bridge. Monumental stuff indeed when you consider he couldn't carry any speed out of the hairpin immediately before the straight. Then it was Gordon's turn on the bike and everyone was excited except his wife Gillian who was a bit apprehensive. As Gordon slowly got used to the bike he got quicker and quicker and eventually ended up at around 150 mph at the same point as John did 170mph. "Not bad for an amateur" said John, "but you do practically live on the circuit so that helps."
Gordon couldn't stop grinning! "That was just mega!" he said. "As you accelerate out of the corners, the bike pulls your arms out of their sockets, but when you arrive at the next corner it pushes them back in and out of the back. You cannot guess the acceleration and by the time you red line in 3rd you are having to brake really hard. These guys must be so fit it is untrue to hold on to a beast like that. There isn't a lot that makes a BTCC car look slow, but that is one of them. Mega, just mega. I want one!" Next it was John's turn to get out on track in Gordon's BTCC car and after a bit of instruction in the pit lane he was ready to go.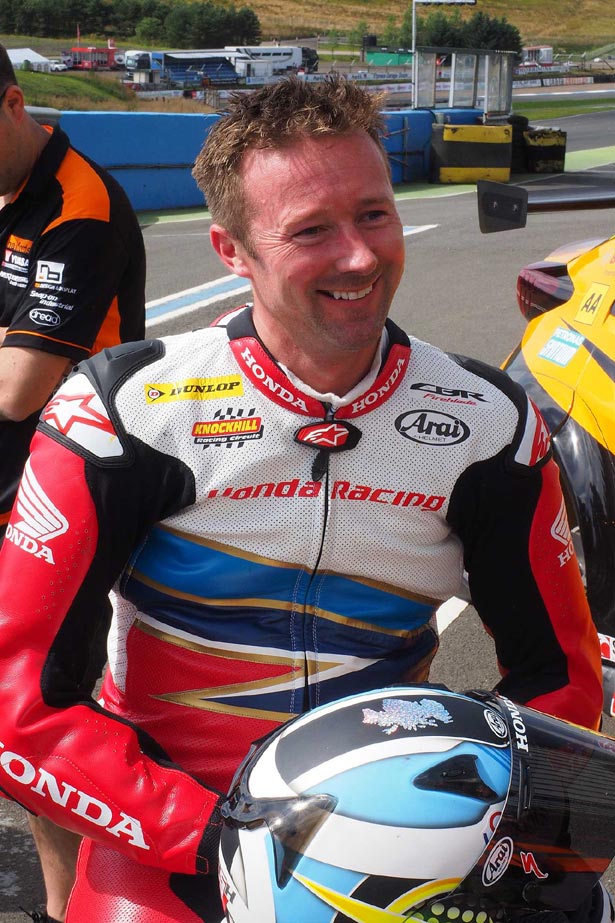 Gordon Shedden can't stop grinning!
The famous orange Honda left the pit lane and after a sighting lap and change of tyres, John went out in earnest. In the early laps you could see John getting visibly quicker before he really went for it towards the end of his first run. There was then a short interlude for him to look at the data compared to Gordon's from the car at the weekend and it was back out to do battle. This time he was much more on it and managed to get down to a 54.0 second lap which is less than half a second adrift of the main field's free practice times from the weekend.
If we thought Gordon's grin was wide, John's was just amazing. "You have so much grip" he enthused, "the corner speed you can carry is immense. I really, really want to buy one of these for track days or maybe actually drive one in the races for real. The biggest thing for me would be knowing where to brake, but if I could get used to that I am sure I would love it even more!" Well, based on today's evidence, we think he would be genuinely competitive as well as enjoying it! Will we see John McGuinness in a BTCC race anytime soon? We wouldn't bet against it and he would be a very quick and very popular competitor!
Touring Car content supplied by MJP Media