Sport
Other Sports
Touring Cars
BTCC announcements at Autosport International - part 1
By MJP Media | 14 January 2016
Inimitable BTCC race winner and 'fan-favourite' Rob Austin has this morning, Thursday 14th January, been confirmed as Handy Motorsport's new driver for the 2016 Dunlop MSA British Touring Car Championship season.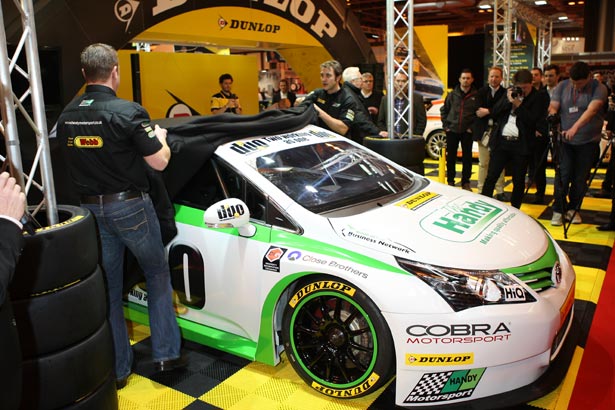 Unveiling Rob Austin's Handy Motorsport Toyota Avensis
The hugely exciting announcement from Swindon-based Handy Motorsport, made on the opening day of the annual Autosport International Show at Birmingham's NEC, is a real 'game changer' for the outfit according to team principal Simon Belcher. Rob Austin, who has spent the past five seasons in the BTCC at the wheel of an Audi A4 with his eponymous Rob Austin Racing team, will pilot a brand new Toyota Avensis during the coming campaign, marking a return to front-wheel drive for the 34-year-old Pershore racer for the first time in almost a decade. "I'm really excited to be joining forces with Handy Motorsport.", said Austin. "The new car is a lot more suited to the [championship] regulations than my Audis were and through this deal we're combining the best bits of both teams. I think we should be able to do a really good job with the new Toyota and spring some surprises."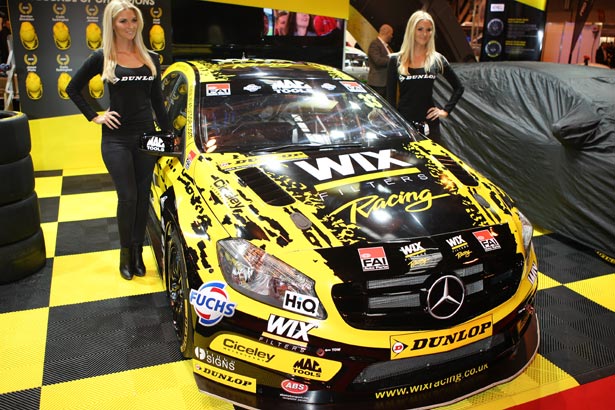 Adam Morgan's Mercedes Benz A-Class with its new livery
One of the other key aspects of the deal sees personnel from Rob Austin Racing joining the existing Handy Motorsport structure, which is already supported from an engineering perspective by successful BTCC squad Speedworks Motorsport. "It goes without saying, we are absolutely ecstatic to announce Rob as our new driver for 2016.", said elated Handy Motorsport team boss Belcher, who himself hopes to continue in the BTCC as a driver this year in the team's original Avensis. "He's a quality driver, a proven race winner in touring cars and brings a huge amount of experience to the team."
Belcher continued: "We've been discussing the possibility of working together for a while and, thanks to a new sponsor package, we've been able to put this programme together. We're at the start of a very exciting period in the team's BTCC story and very much looking forward to making big strides this season."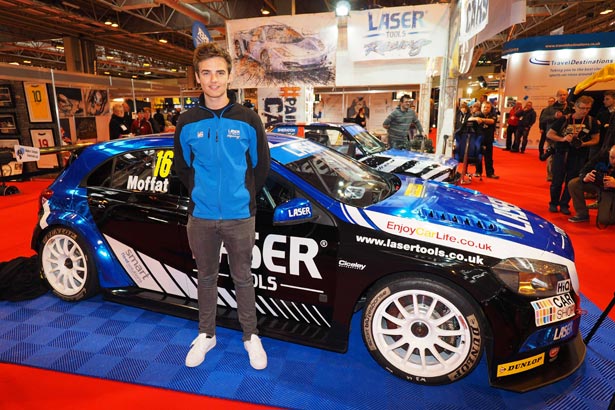 The new livery for Aiden Moffat's Laser Tools Racing A-Class
There were new liveries unveiled for the two Mercedes-Benz A-Class Cars of WIX Racing's Adam Morgan and Laser Tools Racing's Aiden Moffat. Morgan's car now has a more 'street' look, whilst Aiden's car boasts a stunning new 'Blue Chrome' finish. Both cars look fantastic as the teams look to build on an excellent year in 2015 for the joint venture.
Elsewhere at the show, Cosworth, the world-renowned UK performance engineering and manufacturing group, has extended its supply of electronics hardware to the Dunlop MSA British Touring Car Championship for a further six years, supporting the series with the latest generation of Intelligent Colour Display (ICD) Dash Logger and Intelligent Power System (IPS32) hardware to complement the existing supply of ECU, complete car loom, sensor package and aliveDRIVE video data system. Cosworth's new agreement with the BTCC builds on the same close partnership that dates back over 15 years. The deal sees Cosworth's continued contribution to the BTCC's ongoing growth by providing the very latest in its cutting-edge motorsport electronics solutions.
Touring Car content supplied by MJP Media