Sport
Other Sports
Touring Cars
BTCC Season Launch at Donington Park
By MJP Media | 22 March 2016
Five former champions, multiple race winners and a crop of young talent are all set to fight for the 2016 Dunlop MSA British Touring Car Championship.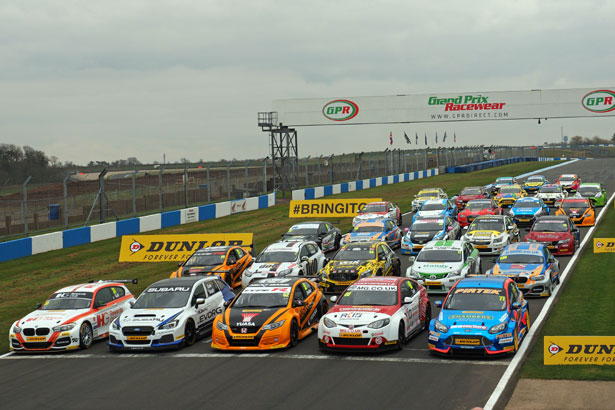 The cars of the 2016 Dunlop MSA British Touring Car Championship
A capacity 32 car entry was announced for the 2016 Dunlop MSA British Touring Car Championship during today's Season Launch event at Donington Park. The line-up represents the largest ever full-season entry in the history of the BTCC. With all 32 TOCA BTCC Licences (TBLs) - which are required to gain entry - now in operation, series organisers also had to turn away two further proposed entries from the now capacity grid.
Eleven marques are represented on the 2016 entry list with Japanese motor sport icon Subaru entering the fray as a fully-fledged manufacturer squad with Team BMR. Subaru joins Honda, MG and BMW in the contest for manufacturers'/constructors' honours, whilst a host of independent outfits will also fight for teams' glory. New long-term contracts have been secured with Dunlop and ITV, whilst two new technical partnerships have also been awarded to the RML Group and Swindon Engines.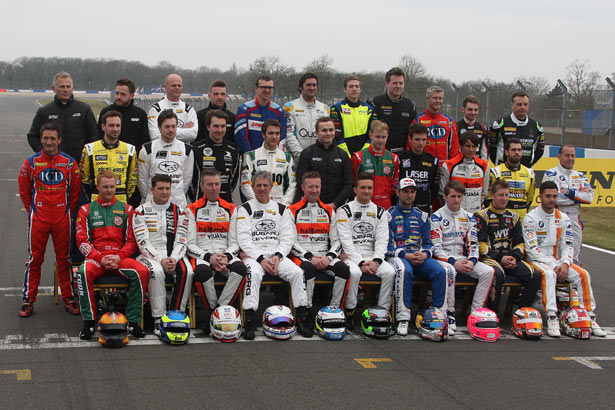 The Class of 2016
Dunlop continues as title sponsor and official tyre supplier until 2022, while ITV will continue to broadcast each and every race live, free-to-air and in high definition on ITV4, plus extensive highlights programmes, for the same period. The season commences at Brands Hatch on 2/3 April and concludes on the legendary Grand Prix circuit at the same venue on 1/2 October.
Gordon Shedden joined an elite group of multiple champions when he took the crown in the closing moments of the 2015 BTCC season at Brands Hatch, whilst arguably the biggest story over the winter was the announcement that Subaru would be joining the BTCC for the first time in its history. Team BMR is running the four-car operation and also boasts both Jason Plato and Colin Turkington in its armoury. Faced with the 'new car' challenge experienced by Honda last year, the team will be buoyed by its rival's exploits in 2015 and will look to hit the ground running.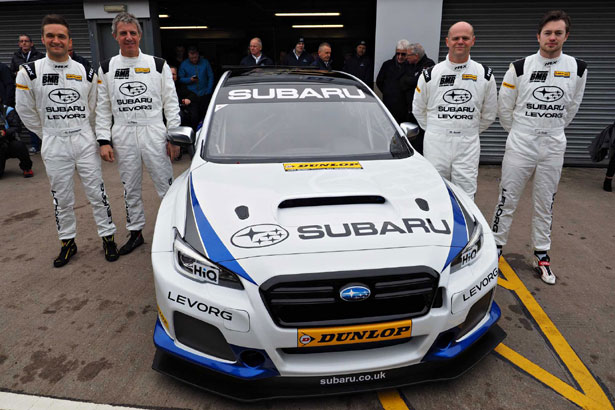 Team BMR with the all-new Subaru Levorg GT
In total there will be a full grid of 32 drivers with Audi (AmD Tuning), BMW (Team IHG Rewards Club, Team JCT600 with GardX), Chevrolet (Power Maxed Racing), Ford (Dextra Racing, Maximum Motorsport, Motorbase Performance), Honda (Halfords Yuasa Racing, Eurotech Racing, Speedworks Motorsport), Mercedes Benz (Laser Tools Racing, WIX Racing), MG (MG Racing RCIB Insurance), Proton (Goodestone Racing), Subaru (Subaru Team BMR), Toyota (Handy Motorsport, Speedworks Motorsport, TLC Racing, RCIB Insurance Racing) and Volkswagen (BKR) all represented.
Matt Neal topped the timesheet in today's pre-season test as the Halfords Yuasa Racing driver pipped young rookie Ashley Sutton in the closing moments at Donington Park. Neal said: "It's a nice start isn't it, but it's going to be very, very close out there. The strength of the TOCA engine looks strong and there are also a lot of new faces coming in, so that's a bit of an unknown for us. Most of the day we've been working on the TOCA components with the RML guys. It's been a productive day, so that's all good. I've just been doing back-to-back stuff for them and at the end of the day we just wanted to see what it was good for so we opened her up. We're back at Brands tomorrow where we had a tough test last week. We weren't fastest by a long margin so we'll see what we can wind ourselves up for there."
Touring Car content supplied by MJP Media