Sport
Other Sports
Touring Cars
British Touring Car Championship
Brands Hatch (Indy) - Race 2 Report - 3/4/16
By MJP Media | 3 April 2016
Gordon Shedden wins an eventful race two at Brands Hatch as Halfords Yuasa Racing take another two podium places with a 1-2 victory for their Honda Civic Type Rs.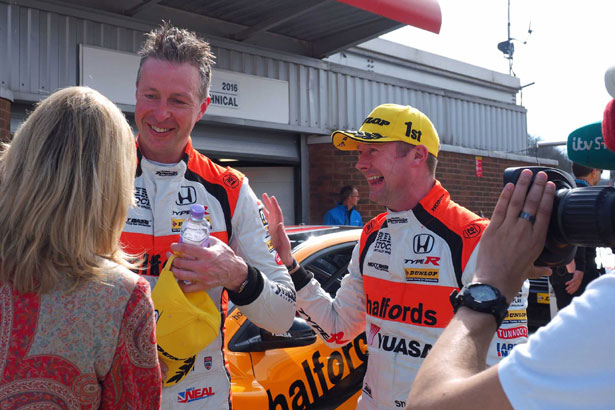 Matt Neal and Gordon Shedden add another 2 podiums to their 2016 collection
Unlike last year, the grid for race two in 2016 is determined by the finishing positions in race one. Tom Ingram once again started from pole position alongside Gordon Shedden but this time had to carry 75Kg of success ballast in his Speedworks Motorsport Toyota Avensis. Matt Neal started on row two alongside Ashley Sutton with Josh Cook and Rob Collard on row three. Aron Smith started on row 4 alongside Mat Jackson with Adam Morgan and Jack Goff on row 5.
Off the line, Tom Ingram made a fabulous start on his soft tyres, whilst behind him Rob Collard in the Team JCT600 with GardX BMW 125i M Sport was on fire as he went from 6th to 2nd into the first corner. Just behind them, Andrew Jordan in the Motorbase Performance Ford Focus hit Josh Cook's MG Racing RCIB Insurance MG6GT in what was to be the first bump in an abrasive race.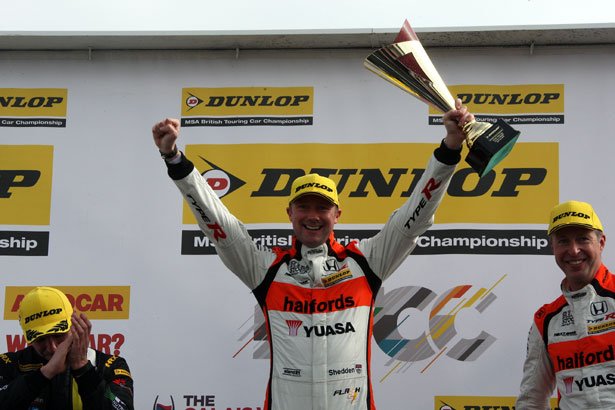 Gordon Shedden on the podium with Matt Neal and Aron Smith
The big drama arrived on lap 2 when Rob Collard got alongside Tom Ingram on Paddock Hill and under the bridge before Druids there was massive sideways contact. Whilst Collard took the lead for about 20 metres, he spun going into Druids and ended up parked on the grass on the inside. Unfortunately the incident badly damaged Tom Ingram's Toyota Avensis and the race leader was forced to slow on lap 3 before retiring into his garage. At the rear of the field, several drivers including Stewart Lines and Chris Smiley went off at Graham Hill Bend causing a Safety Car period.
The Safety Car stayed out for only1 lap and Gordon Shedden got the jump on team-mate Matt Neal on the restart with Josh Cook in 3rd, Aron Smith 4th and Ashley Sutton in 5th. The following lap saw Smith take Cook for 3rd place, dropping him into the clutches of Andrew Jordon and Mat Jackson. After several laps of dicing, both Jordan and Jackson took Cook in a bruising encounter on the start/finish straight.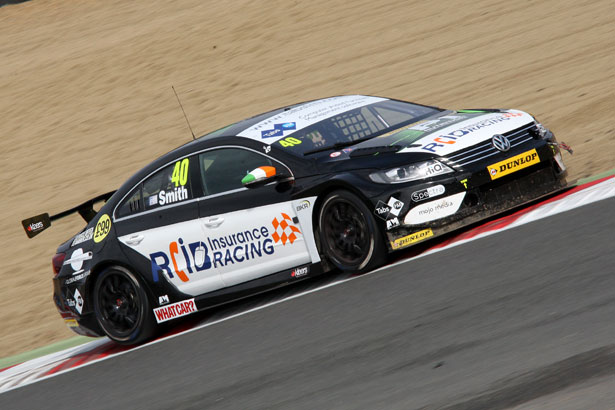 Aron Smith got 3rd for the new BKR team
Later in the race, Jake Hill slowed from 10th place and pulled off on the start/finish straight causing 2 laps of yellow flags, preventing any aggression going into Paddock Hill. With 3 laps to go there was drama after fluid was dropped at Graham Hill Bend causing eight cars to go off and Josh Cook to hit the barriers. At the flag it was victory for Gordon Shedden ahead of Matt Neal with Aron Smith 3rd. Andrew Jordan finished 4th with Mat Jackson 5th and Ashley Sutton 6th, continuing his fine debut weekend.
The reverse grid for the final race of the day was drawn at number 9, giving Sam Tordoff pole position in his Team JCT600 with GardX BMW 125i M Sport alongside the WIX Racing Mercedes Benz A-Class of Adam Morgan. Jack Goff will start on row two alongside Ashley Sutton with Mat Jackson and Andrew Jordan on row three ahead of Aron Smith, Matt Neal and Gordon Shedden.
Touring Car content supplied by MJP Media