Sport
Other Sports
Touring Cars
British Touring Car Championship
Donington Park - Qualifying - 16/4/16
By MJP Media | 16 April 2016
BTCC rookie Ashley Sutton takes pole position in the qualifying session at Donington Park as team-mate Josh Cook makes it a front row lock-out for race one for MG Racing RCIB Insurance.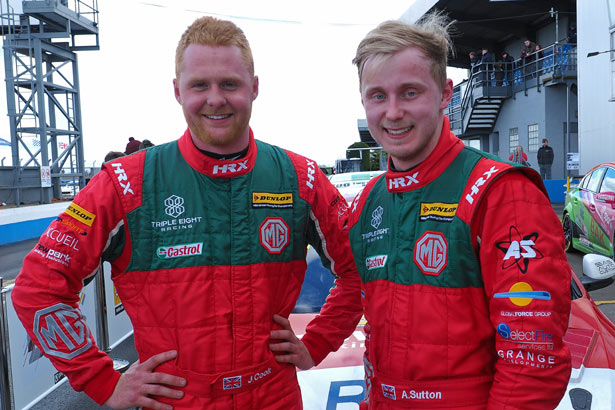 Josh Cook and Ashley Sutton dominate at Donington Park
Following Josh Cook's dominance of the two free practice sessions earlier today, all eyes were on the MG Racing RCIB Insurance driver to see if he could continue his success and put the MG6GT on pole position in the qualifying session for tomorrow's first race. An hour before the qualifying session was due to start the weather took a turn for the worse with a mixture of rain, snow and hail at the Donington Park circuit. Although the weather improved, the track was still damp with the ever-present threat of more rain as the drivers took to the track for the start of the session.
Halfords Yuasa Racing team-mates Matt Neal and Gordon Shedden were the first out, quickly followed by the rest of the field however the session was red-flagged before any timed laps were completed when Mark Howard beached his BKR Volkswagen CC in a gravel trap. With the drivers making their way back to the pits, Gordon Shedden's Honda Civic Type R was selected for a ride-height check which it failed. Fortunately the Scot had no lap times to have cancelled and plenty of time remaining to rectify the situation.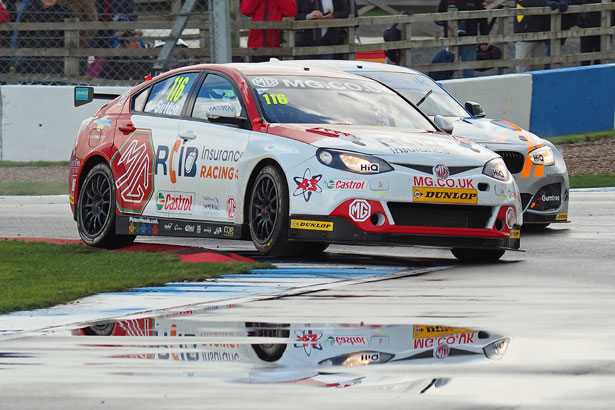 Ashley Sutton on his way to pole position
When the session resumed, Motorbase Performance's Mat Jackson was the first to break the 1:19 barrier, closely followed by MG Racing RCIB Insurance's Ashley Sutton to go 2nd fastest on his 4th lap. Behind the front-runners, Andrew Jordan was 3rd fastest until Colin Turkington posted a faster time in his Silverline Subaru BMR Racing Levorg GT. Approaching half-time Josh Cook went 3rd fastest, dropping Turkington to 4th. Elsewhere, Andrew Jordan's Ford Focus failed a ride-height check causing the former BTCC champion to have his times removed.
With 12 minutes of the session remaining, Gordon Shedden went 5th fastest as Tom Ingram went fastest in his Speedworks Motorsport Toyota Avensis, taking half a second out of Josh Cook's time. Shortly afterwards, the drivers started to put slick tyres on their cars as the track dried out. The next few minutes saw the time sheet change rapidly with Matt Neal, Sam Tordoff then Andrew Jordan taking the top position.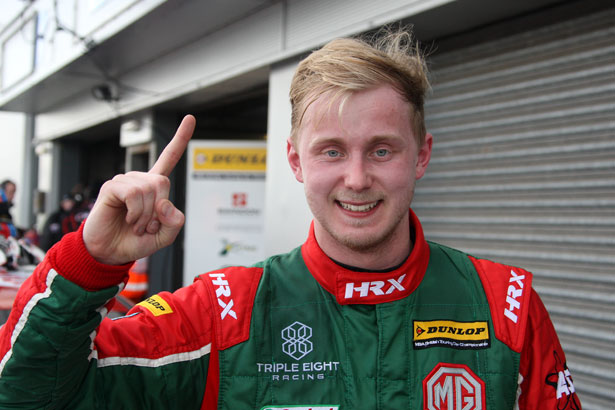 Ashley Sutton is No. 1 in qualifying at Donington Park
With lap times tumbling, the final minutes were always going to be exciting however the session was red-flagged with just over 2 minutes remaining following an incident involving Andrew Jordan. The clock was reset with 5 minutes remaining, allowing a final shoot-out for qualifying honours with Gordon Shedden in provisional pole position. With a dry track and everyone on slick tyres, there was a flurry of fastest lap times posted before another red-flag situation caused by Mat Jackson brought the session to a premature end.
BTCC rookie Ashley Sutton took pole position with team-mate Josh Cook 2nd making it a front row lock-out for MG Racing RCIB Insurance for the first race tomorrow. Mat Jackson and Gordon Shedden qualified 3rd and 4th to start on the 2nd row with Tom Ingram and Rob Collard on row 3. Aron Smith, Jack Goff, Matt Neal and Jake Hill completed the top 10. The scene is now set for a thrilling day of BTCC action from Donington Park tomorrow - don't miss it!
Touring Car content supplied by MJP Media