British Touring Car Championship
Thruxton - Race 2 Report - 8/5/16
By MJP Media | 8 May 2016
Andrew Jordan takes his first victory for Motorbase Performance in the shortened 2nd race at Thruxton.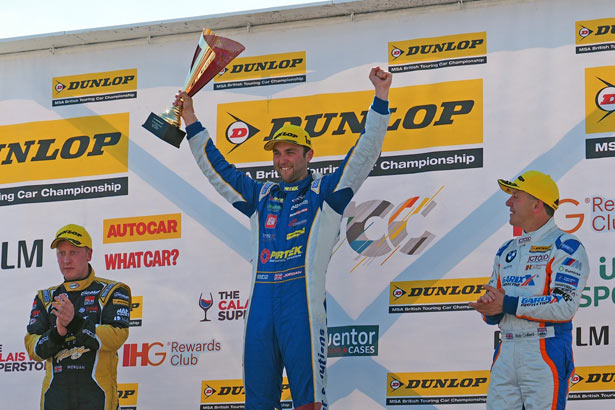 Andrew Jordan celebrates his first win of the 2016 season
Following the carnage and numerous punctures in race 1, an investigation showed that a track temperature of 33 degrees, which is unheard of at Thruxton in May, was contributing to the incidents. As a result of this and increasing track temperatures, a decision was made to reduce races 2 and 3 to 12 laps each on safety grounds.
On the grid it was Adam Morgan in the WIX Racing Mercedes Benz A-Class in pole position with Tom Ingram in the Speedworks Motorsport Toyota Avensis in second place sharing the front row. Behind them came Andrew Jordan, Jeff Smith, Martin Depper and Rob Collard in the fast-starting Team JCT600 with GardX BMW 125i M Sport. Ones to watch in the second race were Mat Jackson and Aiden Moffatt who started 21st and 22nd, both of whom were vying for the lead in race 1 before punctures ruined their races together with the two MGs and the two Halfords Yuasa Racing Hondas even further back.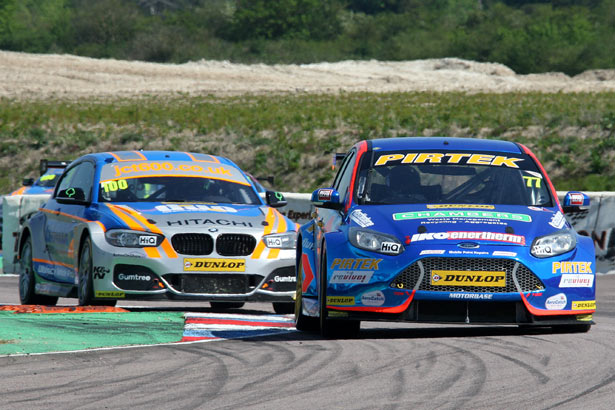 Andrew Jordan holds off Rob Collard to win race two
Off the line it was Adam Morgan with a flyer, closely followed by Andrew Jordan who was soon up to second with Tom Ingram in 3rd and Rob Collard in 4th. On lap 2, Sam Tordoff was able to take Collard for 4th and crucially, Tom Ingram was given a drive-through penalty for jumping the start. As the leaders pulled away from the field on lap 3, Jeff Smith spun out after getting on the grass at Church, promoting Dan Welch up to a season best 7th. On lap 5, it was Tom Ingram leading before taking his penalty ahead of Adam Morgan, Andrew Jordan and Rob Collard.
At the halfway point Adam Morgan was in the lead from Andrew Jordan, Rob Collard, Jack Goff and Sam Tordoff with Dan Welch in an incredible 6th place however on lap 7 Eurotech Racing's Martin Depper was able to pass Welch before Gordon Shedden also passed the Proton Persona driver. On lap 8 the leaders were getting even tighter as a bunch with Morgan's lead over Jordan down to 0.177 seconds with less than 0.3 of a second separating the top 5 and Gordon Shedden charging through the field, taking 6th on lap 10.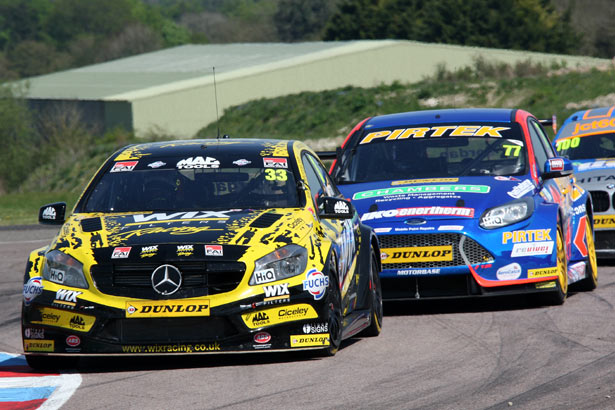 Adam Morgan being chased by Andrew Jordan
At the start of lap 11 Andrew Jordan took the lead from Adam Morgan on the start-finish straight and in the ensuing battle Rob Collard was also able to pass Morgan for second place. Gordon Shedden was able to take 5th as Martin Depper suffered an exploding tyre. At the chequered flag it was victory for Andrew Jordan with Rob Collard 2nd, Adam Morgan 3rd and Gordon Shedden 4th. Jack Goff, Sam Tordoff, Daniel Lloyd, Mat Jackson, Dan Welch and Rob Austin completed the top 10.
With the reverse grid at number 9, it will be Dan Welch with his first ever BTCC pole position with Mat Jackson next to him on the front row. Behind them will be Daniel Lloyd and Sam Tordoff on row 2 with Jack Goff and Gordon Shedden on row 3. With the sun continuing to beat down it will be another hot race for the drivers and teams over the remaining 12 laps of the weekend and who would bet against Gordon Shedden from 6th on the grid?
Touring Car content supplied by MJP Media