British Touring Car Championship
Knockhill - Race 3 Report - 14/8/16
By MJP Media | 14 August 2016
Mat Jackson drives the perfect defensive race to win at Knockhill as championship rivals Rob Collard and Colin Turkington take each other off.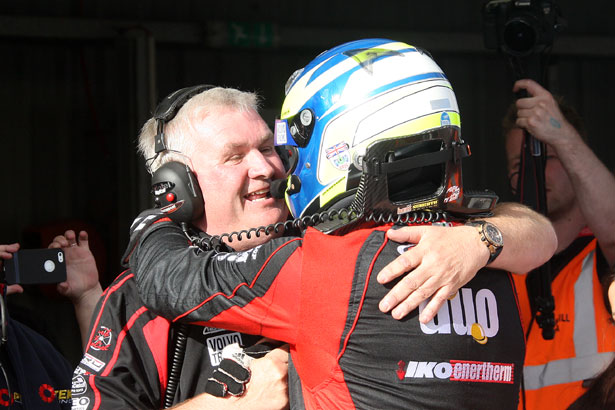 Mat Jackson and team boss David Bartrum enjoy their victory
With the No. 6 ball being drawn for the reverse grid for the final race of the day, Motorbase Performance's Mat Jackson started in pole position alongside Team JCT600 with GardX's Rob Collard. Silverline Subaru BMR Racing team-mates Colin Turkington and Jason Plato started on row two with Collard's WSR team-mate Sam Tordoff and Halfords Yuasa Racing's Matt Neal on row three.
Mat Jackson got a good start to lead off the line whilst Jeff Smith, Stewart Lines and Alex Martin all went off but fortunately got going again. Just after the chicane, Michael Epps hit Ashley Sutton, putting the MG in the gravel with broken suspension. With yellow flags in evidence, lap 2 saw Jackson under pressure from Collard on soft tyres. On lap 3, Turkington got alongside Collard but had to back off because of the yellow flags as the Safety Car was deployed for three laps.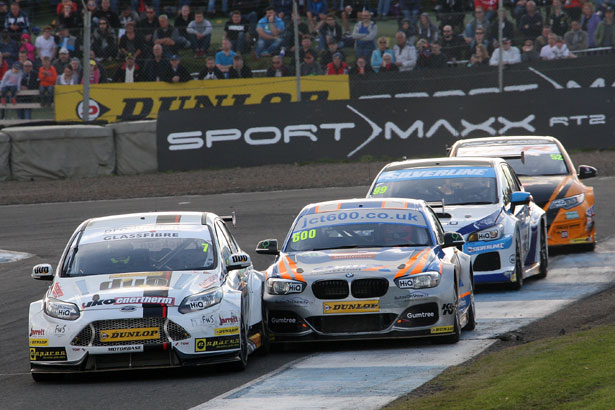 The battle for the lead
After the Safety Car pulled in, Colin Turkington and Rob Collard were soon in touch with Mat Jackson again and at the end of the 7th lap they were joined by Sam Tordoff. Collard and Turkington then went off on lap 8 after several bumps, leaving Tordoff charging after Jackson on his own. Rob Collard later described the incident as an "unforgiveable accident" and Tim Harvey on ITV declared it as a "mistake". All this brought Jason Plato up to 3rd ahead of Gordon Shedden and Matt Neal.
At the halfway stage it was Mat Jackson, Sam Tordoff, Jason Plato and Gordon Shedden for the lead with the gap covering them less than two seconds. There was also a massive battle for 8th going on between Aiden Moffat and Andrew Jordan. At the front, lap 16 saw the top four really bunched up with Jackson having to defend from the other three immediately behind. Shedden was the man on the move all over the back of Plato but as they battled, they lost time against the two leaders. As they closed back up to Jackson and Tordoff, Matt Neal was closing up to them.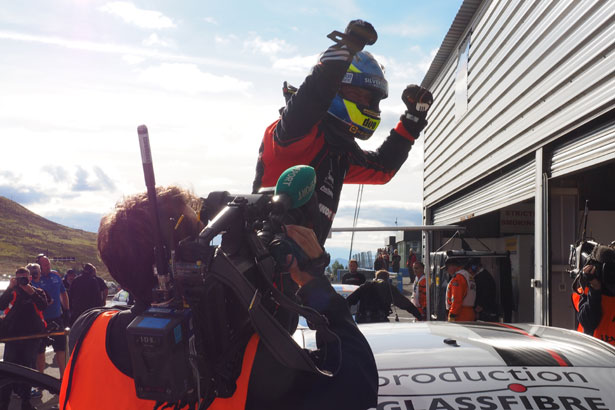 Mat Jackson celebrates his 4th win of the season
On lap 20 the top four were extending their lead again with any of them capable of winning if there was a mistake by another driver. As tyres started to wear, it became a seven car train with Rob Austin and Adam Morgan joining in. On lap 23, the world's widest Ford Focus continued to lead in the hands of Mat Jackson, although there was evidence of its tyres going off.
With three laps to go, Mat Jackson was controlling the race by blocking at the hairpin so the three behind couldn't get past. They maintained the battle to the chequered flag with Jackson taking his 4th win of the season from Sam Tordoff and Jason Plato, with Shedden, Neal and Austin completing the top 6. Sam Tordoff leads the Drivers' Championship on 231 points ahead of Matt Neal on 222 and Rob Collard on 199. Gordon Shedden is 4th on 191 with Jackson 5th on 188 and Colin Turkington 6th on 183. The next meeting of the 2016 Dunlop MSA British Touring Car Championship is at Rockingham in Northamptonshire in two weeks and we will see you there!
Touring Car content supplied by MJP Media