British Touring Car Championship
Rockingham - Race 1 Report - 28/8/16
By MJP Media | 28 August 2016
Gordon Shedden takes a 'lights to flag' victory and maximum points in the first race of the day at Rockingham. Mat Jackson survives constant pressure from Jason Plato to take 2nd.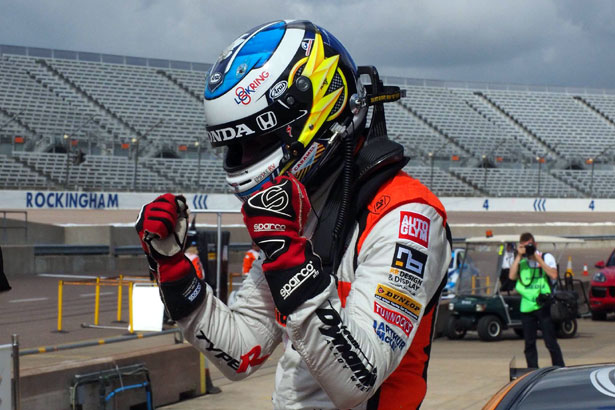 Gordon Shedden takes 23 points from the first race at Rockingham
In a rain-soaked qualifying session yesterday, Gordon Shedden put his Halfords Yuasa Racing Honda Civic Type R in pole position for the first race of the day from Northamptonshire's Rockingham circuit. Qualifying 2nd, Motorbase Performance's Mat Jackson joined Shedden on the front row of the grid in his Ford Focus. Josh Cook started on row two alongside Jason Plato with Colin Turkington and Ashley Sutton on row three. Tom Ingram and Matt Neal started on row four. Having suffered with ignition problems during qualifying, the BMWs of Jack Goff, Rob Collard and Sam Tordoff started 25th, 26th and 27th respectively. They would have each been one place further down the grid had Rob Austin not been handed a 'three strikes' penalty which put him at the back of the grid.
Off the line, Mat Jackson got a good start and looked like he was going to take an early lead however Gordon Shedden held the inside line into the Deene hairpin to defend his position. Behind the leaders, Silverline Subaru BMR Racing's Jason Plato and Colin Turkington each gained a place to move up to 3rd and 4th as Josh Cook lost two places at the start. Jackson continued to challenge Shedden however the Safety Car was deployed to allow for the recovery of Martin Depper's Eurotech Racing Honda Civic Type R, temporarily preventing any further challenge.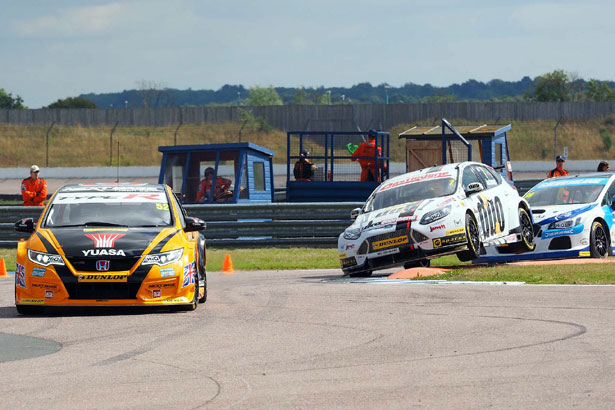 Gordon Shedden with the battle for 2nd place behind
The undisputed star of the opening lap was Team JCT600 with GardX's Rob Collard who crossed the line in 15th place having started 26th on the grid - an impressive eleven place gain in just one lap! Racing resumed on lap three and Gordon Shedden started to extend a slender gap over Mat Jackson who was under intense pressure from an eager Jason Plato. As the race continued it was announced that Colin Turkington's start was to be investigated after the race. Shedden continued to build a gap over the fight for 2nd place between Jackson, Plato and Turkington.
Further down the field, Andrew Jordan had passed the WIX Racing Mercedes Benz A-Class of Adam Morgan to take 9th place while Matt Neal lost a place to Jake Hill in the RCIB Insurance Racing Toyota Avensis. A few laps later, Sam Tordoff passed team-mate Rob Collard to take 15th place. On lap 10, Hunter Abbott spun out of 14th place at the Deene hairpin with a right rear puncture and limped back to the pits, his race effectively over.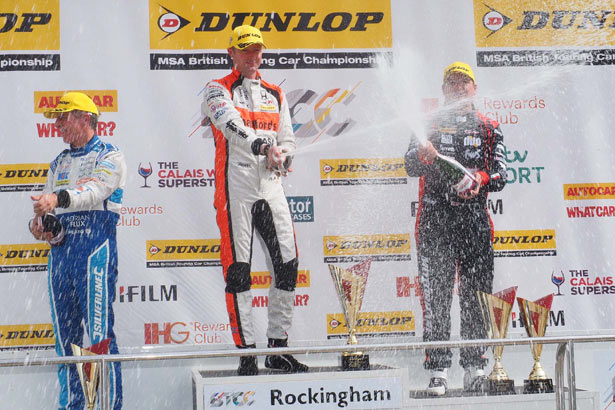 Podium celebrations for Gordon Shedden, Mat Jackson and Jason Plato
By lap 13, championship leader Sam Tordoff was up to 11th place from his 27th place start. At the front there was no change with Shedden holding on to his lead as the fight for 2nd place continued. In the closing laps, Shedden's lead reduced slightly however he was never in any danger of being caught, unlike Mat Jackson who had been under constant pressure from Jason Plato for the entire race.
At the chequered flag it was victory for Gordon Shedden who, by virtue of pole position and posting the fastest lap time, took the maximum 23 points available from the race. Mat Jackson defended his position well to hold on to 2nd place with Jason Plato taking the last podium position. Colin Turkington finished 4th ahead of Josh Cook and Ashley Sutton with Andrew Jordan, Matt Neal, Dave Newsham and Sam Tordoff completing the top ten. These results may of course change pending the results of the investigation into Turkington's start.
Touring Car content supplied by MJP Media