British Touring Car Championship
Silverstone - Race 1 Report - 18/9/16
By MJP Media | 18 September 2016
Ashley Sutton and Josh Cook take a 1-2 victory for MG Racing RCIB Insurance in the first of today's three Dunlop MSA British Touring Car Championship races from Silverstone.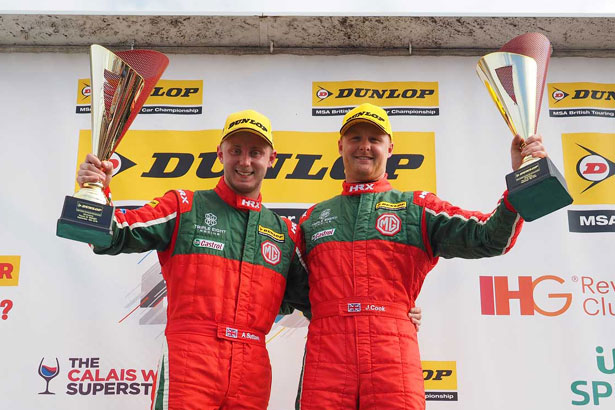 Ashley Sutton and Josh Cook take a 1-2 victory at Silverstone
Yesterday's qualifying session produced an unexpected grid for the first of today's three Dunlop MSA British Touring Car Championship races from the iconic Silverstone circuit in Northamptonshire. MG Racing RCIB Insurance's Ashley Sutton claimed pole position with Speedworks Motorsport's Tom Ingram alongside on the front row of the grid having qualified just 0.003 seconds behind Sutton. With Sutton's team-mate Josh Cook and Motorbase Performance's Andrew Jordan starting on row two, the front of the grid was not that unusual, however the position of the championship front-runners certainly was with championship leader Sam Tordoff starting in 17th place, Matt Neal in 7th, defending champion Gordon Shedden in 10th and Mat Jackson 21st.
With Silverline Subaru BMR Racing's Colin Turkington starting from 29th on the grid following a penalty handed down the previous meeting, the race got underway with the MG Racing RCIB Insurance drivers not getting the best of starts. Pole-sitter Ashley Sutton lost the lead to Tom Ingram while Josh Cook lost 3rd place to Andrew Jordan. WIX Racing's Adam Morgan also lost a place on the opening lap, being passed by Rob Austin in the Handy Motorsport Toyota Avensis, however he regained the position on lap 3.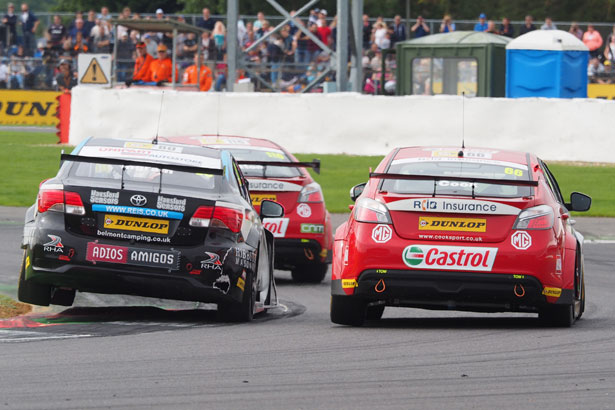 The 3-way battle for the lead between Ashley Sutton, Tom Ingram and Josh Cook
On lap 4, Rob Collard passed his Team JCT600 with GardX team-mate Sam Tordoff before Tordoff lost another place to Jack Goff in the Team IHG Rewards Club BMW 125i M Sport. On lap 5, Andrew Jordan lost 3rd place to Josh Cook then immediately came under attack from the Mercedes Benz A-Class of Adam Morgan. At the front, Tom Ingram and Ashley Sutton extended a slight lead over the rest of the field. Ingram ran wide on lap 7 and Sutton took full advantage, taking the lead in his MG6GT. Ingram tried to regain the lead but to no avail.
By now, Josh Cook was the fastest driver on the track and gaining on the two front-runners. By lap 9 there was a 3-way battle for the lead between Ashley Sutton, Tom Ingram and Cook. Cook challenged Ingram for 3rd place on lap 11 however Ingram defended his position. Meanwhile, Andrew Jordan was gaining ground and soon joined the battle at the front of the field. On lap 12, Cook got the nose of his MG6GT in front of Ingram's Toyota Avensis and took 2nd place. Further down the field, Gordon Shedden's Halfords Yuasa Racing Honda Civic Type R suffered a left-front puncture as an intense battle the 15th and the last championship point of the race was raging between Colin Turkington, Jack Goff, Mat Jackson, Sam Tordoff and Jason Plato.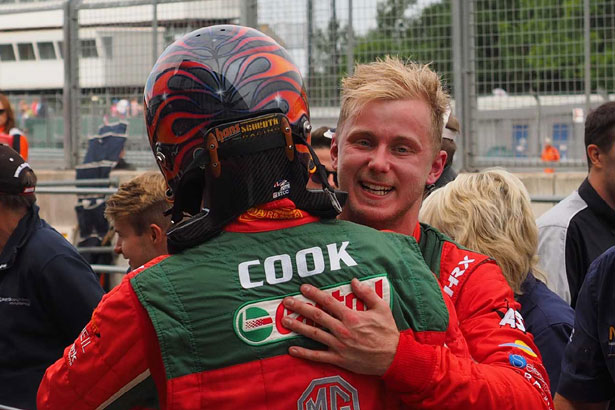 Race winner Ashley Sutton celebrates with team-mate Josh Cook
At the front, Josh Cook was challenging his MG Racing RCIB Insurance team-mate Ashley Sutton for the lead however Sutton held his ground as Tom Ingram in 3rd tried to take advantage of the battle in front of him. With Andrew Jordan in 4th, the fight for 5th place was between Adam Morgan and Rob Austin, with Austin taking the position on lap 18. Further down the order, Laser Tools Racing's Aiden Moffat was challenging Matt Neal but got sideways after they made contact with each other. In the closing laps, Neal also sustained a left-front puncture as did the Subaru Levorg GT of James Cole.
At the chequered flag it was a 1-2 victory for MG Racing RCIB Insurance with Ashley Sutton leading team-mate Josh Cook home. Tom Ingram held on to finish 3rd with Andrew Jordan 4th, Rob Austin 5th and Adam Morgan 6th. Jake Hill, Aron Smith, Rob Collard and Colin Turkington completed the top ten - an excellent result for Turkington considering his start from 29th on the grid. The grid for race 2 will see Sutton on pole alongside Cook however they will have to carry a lot of success ballast whereas the championship leaders will lose most of the ballast they had to carry during race 1. This should lead to another thrilling race from Silverstone this afternoon.
Touring Car content supplied by MJP Media