British Touring Car Championship
Silverstone - Free Practice - 17/9/16
By MJP Media | 17 September 2016
Young guns show the way in free practice at Silverstone with Adam Morgan and Ashley Sutton topping the timesheets.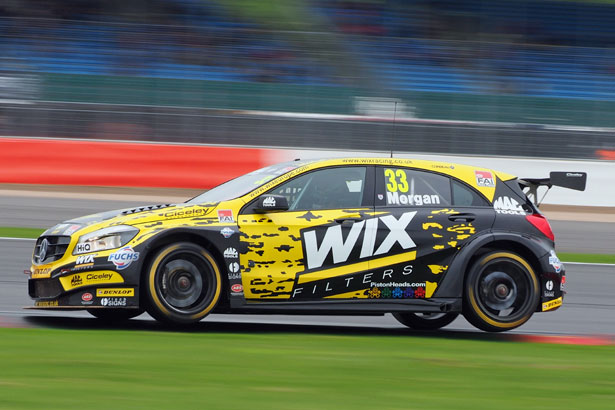 Adam Morgan was the fastest in the wet first session
With Sam Tordoff leading the Dunlop MSA BTCC Drivers' Championship by just 5 points from Matt Neal, Northamptonshire's Silverstone circuit provides the venue for the penultimate meeting of the season with rounds 25, 26 and 27 of Britain's premier motor sport series. Mat Jackson arrived at Silverstone with his Motorbase Performance Ford Focus carrying a special livery thanks to new sponsor Oki Printers.
The first of the day's two 40-minute free practice sessions started with light drizzle making track conditions extremely tricky. Many of the drivers pitted in the early laps to rotate their tyres, however the unseasonably cold and increasingly wet conditions meant getting heat into the tyres was quite a challenge, with drivers moving on the wet weather tyres as the session progressed.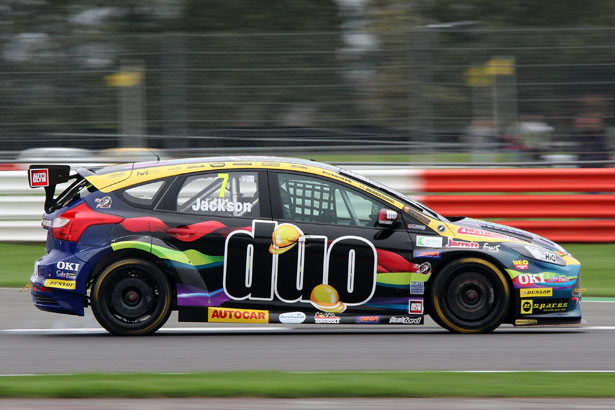 Mat Jackson's Ford Focus with its striking Oki Printers livery
With drivers unable to improve on the times they first posted in the early part of the session, Adam Morgan set the fastest lap time in his WIX Racing Mercedes Benz A-Class with AmD Tuning.com's Ollie Jackson 2nd in his Audi S3. Mat Jackson was 3rd fastest with Matt Simpson 4th in his Honda Civic Type R for Speedworks Motorsport. Jake Hill, Tom Ingram, Stewart Lines, Ashley Sutton, Rob Austin and Matt Neal completed the top ten.
Having obtained little useful data from the first session due to the adverse weather conditions, the drivers were keen to make the most of the second session which although dry, was still cold. Missing from this session was Aiden Moffat's Laser Tool Racing Mercedes Benz A-Class which was undergoing a preventative engine change ahead of the qualifying session.

Ashley Sutton topped the timesheet in the second session
Adam Morgan looked like he would top the timesheet again however MG Racing RCIB Insurance's Ashley Sutton had other ideas, pushing his MG6GT to the fastest lap of the session in its closing minutes. Morgan ended the session 3rd fastest behind Tom Ingram's Speedworks Motorsport Toyota Avensis in 2nd. Aron Smith was 4th fastest with Rob Austin 5th and Hunter Abbott 6th. Andrew Jordan, Josh Cook, Jake Hill and Martin Depper completed the top ten.
One of the most noticeable aspects of the two free practice sessions was the lack of grip at Brooklands which caused several spins and the majority of the field to break well before the corner, adopting an overly cautious approach. If this persists into this afternoon's qualifying session when the drivers will be pushing harder, this could catch out the unwary. With 22 cars setting lap times within one second of Ashley Sutton, the action is sure to be exciting.
Touring Car content supplied by MJP Media