British Touring Car Championship
Rockingham - Race 2 Report - 28/8/16
By MJP Media | 28 August 2016
Sam Tordoff wins a thrilling second race at Rockingham as Andrew Jordan takes 2nd place ahead of Rob Collard.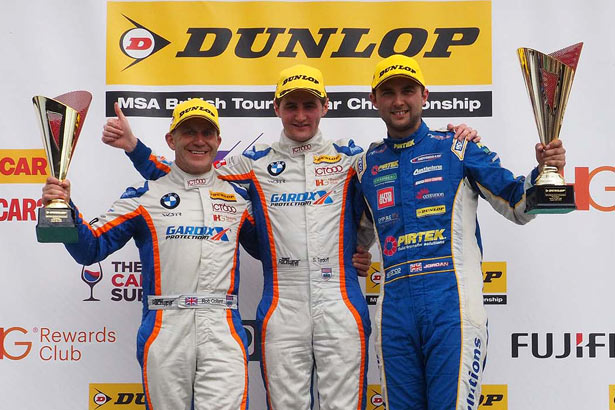 Sam Tordoff on the podium with Rob Collard and Andrew Jordan
With the grid for race two being determined by the results from race one, Gordon Shedden once again lined up in pole position in his Halfords Yuasa Racing Honda Civic Type R alongside the Motorbase Performance Ford Focus of Mat Jackson. Silverline Subaru BMR Racing's Jason Plato and Colin Turkington lined up on row two with the MG Racing RCIB Insurance MG6GTs of Josh Cook and Ashley Sutton on row three and Andrew Jordan and Matt Neal on row four.
There was drama before the race had even started with Dan Welch stopping his Proton Persona just after leaving on the formation lap with steering problems. Further around the green flag lap, Tom Ingram retired his Speedworks Motorsport Toyota Avensis with a turbo failure. With Gordon Shedden under investigation for having mechanics on the grid too late, the race got under way with Mat Jackson making another good start however Shedden was able to successfully defend the lead. Several drivers made contact at the Deene hairpin, most notably Jason Plato who was forced to return to the pits with damage to his Levorg GT.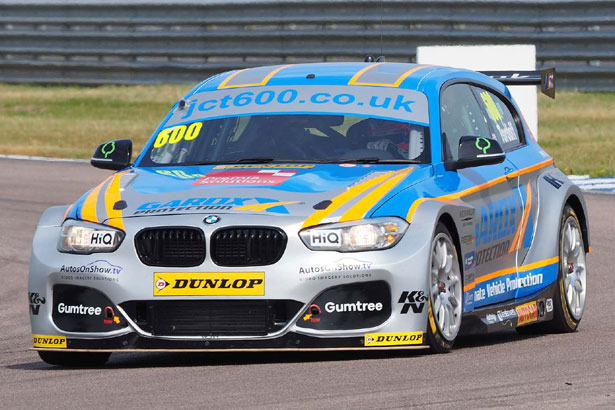 Sam Tordoff in his Team JCT600 with GardX BMW 125i M Sport
The first few laps saw the front-runners change positions several times with Mat Jackson taking the lead from Gordon Shedden on lap 2 and Andrew Jordan taking 2nd place from Shedden on lap 3 - Shedden clearly being hampered by the 75Kgs of success ballast he was now carrying from race one together with running the hard compound tyre. Shedden lost another place to Sam Tordoff in the Team JCT600 with GardX BMW 125i M Sport before dropping further down the order after being passed by Ashley Sutton, Rob Collard and Aiden Moffat. By the end of lap 4, Shedden was down to 9th place, losing another place to Aron Smith on the following lap.
By lap 7, and with Mat Jackson in the lead ahead of Andrew Jordan and Sam Tordoff, Rob Collard had climbed up to 4th place. At the front, Jordan was challenging his Motorbase Performance team-mate Jackson for the lead however he lost out Tordoff who took 2nd place from him before setting about the task of attacking Jackson for the lead which he succeeded in doing on lap 9. On lap 10, Andrew Jordan was catching Mat Jackson for 2nd place while further down the field Aiden Moffat in the Laser Tools Racing Mercedes Benz A-Class was vigorously defending his 6th place from Matt Neal.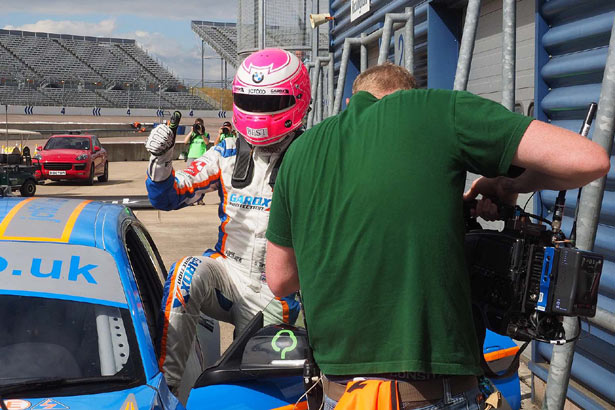 Sam Tordoff after winning the second race of the day at Rockingham
Lap 12 saw Andrew Jordan pass Mat Jackson for 2nd place with Jackson then falling into the clutches of Rob Collard who challenged and succeeded in taking 3rd place on the next lap. With the reverse grid draw in their minds, there was a battle for 10th place in the closing laps between Gordon Shedden and Ollie Jackson whilst Rob Collard was pushing Andrew Jordan hard for 2nd place. The race ended with victory for Sam Tordoff ahead of Andrew Jordan and Rob Collard. Mat Jackson finished in 4th place with Ashley Sutton 5th and Matt Neal 6th. Aron Smith, Adam Morgan, Aiden Moffat and Gordon Shedden completed the top ten.
With the No. 7 ball being drawn, the reverse grid for the final race of the day at Rockingham will see Aron Smith on pole in the BKR Volkswagen CC alongside the Halfords Yuasa Racing Honda Civic Type R of Matt Neal. Ashley Sutton will start on row two alongside Mat Jackson with Rob Collard and Andrew Jordan on row three. Sam Tordoff will start on row four alongside Adam Morgan with Aiden Moffat and Gordon Shedden on row five. This grid should produce a fascinating race to end the day at the Northamptonshire circuit.
Touring Car content supplied by MJP Media