British GT Championship
Oulton Park - Race 1 Report - 30/5/16
By MJP Media | 30 May 2016
Pit stop gamble pays ultimate reward as Liam Griffin and Adam Carroll win the first of the two British GT races at Oulton Park.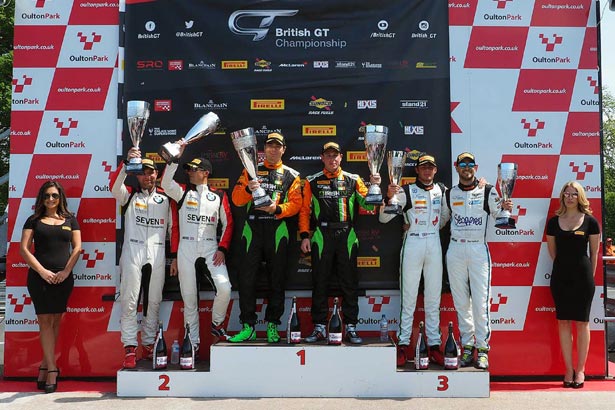 Race 1 podium success for Liam Griffin and Adam Carroll
Barwell Motorsport's Liam Griffin and Adam Carroll made the most of a hectic pit-stop window and subsequent delays to win the opening race of British GT's Oulton Park double header this morning. Joe Osborne's superb rear-guard effort helped he and AmDTuning.com co-driver Lee Mowle finish second ahead of Rick Parfitt Jnr and Seb Morris aboard their Team Parker Racing Bentley.
Griffin and Carroll secured Lamborghini's first British GT victory since 2010 at Spa-Francorchamps with a measured drive from second on the grid, not to mention a clever pit strategy, in the day's first one-hour race. The sister Barwell-run Huracan driven by Jon Minshaw led away from pole but was closely followed by Parfitt Jnr's Bentley Continental GT3, which had muscled its way past Griffin at Old Hall on the opening lap.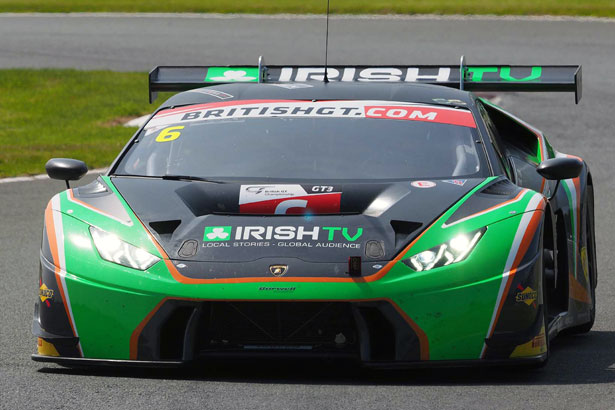 Griffin and Carroll's Barwell Motorsport Lamborghini Huracan GT3
A safety car period with only three laps gone lasted until just 10 minutes before the pit window opened. Minshaw's seven second pit-stop success penalty for finishing runner-up at Rockingham meant the chasing Bentley had only to sit tight in order to theoretically inherit the lead, post driver changes. However that was without reckoning on the tight Oulton Park pit lane, which caused issues for several outfits when most elected to stop on the same lap. One of those was Team Parker Racing's Seb Morris who, having taken over from Parfitt Jnr, found himself blocked in behind Rob Bell's Black Bull Ecurie Ecosse McLaren. Morris eventually emerged just ahead of Phil Keen, who had relieved Minshaw, but crucially lost track position to those not caught up in the driver change dramas.
One of those clever few was Carroll's Lamborghini, which had run a solid third under Griffin's watch before stopping later than the majority of its GT3 rivals, thus avoiding the packed pit lane. With faster rivals stuck in the chasing pack, the Northern Irishman was able to comfortably pull clear for Barwell's first victory of the season. AmDTuning.com were the biggest winners through the pit stops, finishing second as a result. Mowle had been seventh coming up to the driver changes, but crucially stopped a lap early thanks to the pit window opening just as he approached the start/finish straight. Co-driver Osborne was unable to keep pace with the Lamborghini up front but produced a wonderful defensive display to keep at bay the rapidly advancing Morris, who finished third.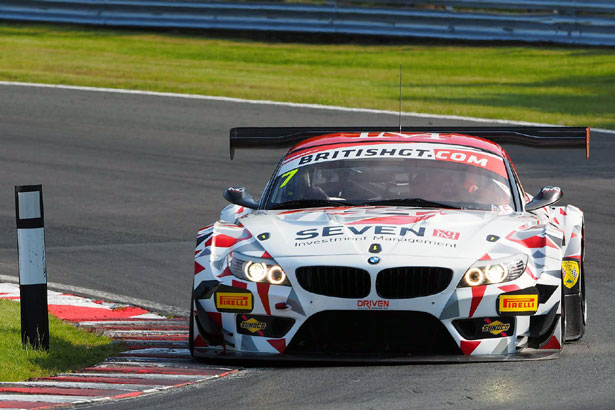 AmDTuning.com's BMW Z4 GT3 finished 2nd for Lee Mowle and Joe Osborne
Liam Griffin (Barwell Motorsport Lamborghini Huracan GT3) said: "I struggled a little with the tyres at the start of my stint before they came back in towards the end, so I wasn't as close to the other Lambo as I'd have liked. But we knew that if we weren't within a certain time that we'd do an extra lap, which worked out for us in the end. I guess we were fortunate to get the jump and come out with a nice healthy lead. Clearly anything can happen in the pit-stops so we're not completely out of it in race two, even with the success penalty."
Rick Parfitt Jnr (Team Parker Racing Bentley Continental GT3) said: "Being blocked in by the McLaren really cost us the race, which had been going exactly to plan up to that point. We needed to get past [Liam] Griffin because he wouldn't be serving a pit stop success penalty, which we did. I felt like I had the pace on Minshaw but Jon is very good around Oulton. I knew that just sticking close would be enough to jump him in the pits. It should have been easy! Sure, the McLaren got a 10 second penalty but that didn't help us. That's racing I guess. Seb drove a blinder after that to at least limit the damage."
Touring Car content supplied by MJP Media