British GT Championship
Oulton Park - Race 2 Report - 30/5/16
By MJP Media | 30 May 2016
Bentley boys Rick Parfitt Jnr and Seb Morris secure a maiden British GT win in race two at Oulton Park.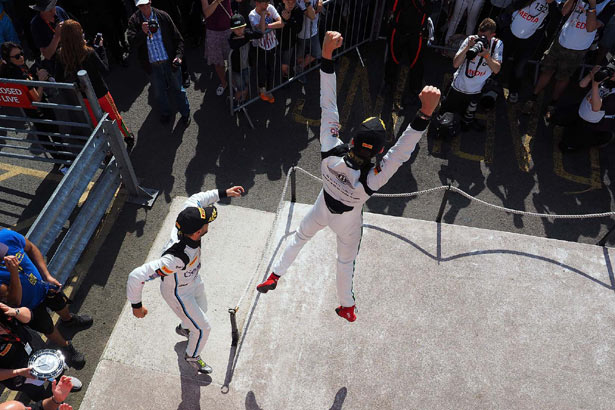 Parfitt Jnr and Morris were jumping for joy after their maiden win
Team Parker Racing's Rick Parfitt Jnr and Seb Morris secured theirs and Bentley's maiden British GT Championship victory at Oulton Park this afternoon thanks to a commanding performance in the day's second hour-long race.
Behind them Alasdair McCaig, Rob Bell and the Black Bull Ecurie Ecosse team celebrated their first series podium since switching to McLaren's 650S, while the GT3 rostrum was completed by Barwell Motorsport's Jon Minshaw and Phil Keen. The race finished five minutes early after Anna Walewska, who had been leading the GT4 class, crashed her Century Motorsport Ginetta at Lodge.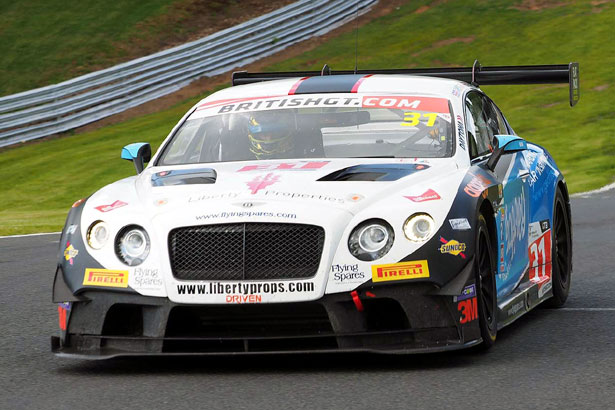 Team Parker Racing's Bentley Continental at Oulton Park
Third place in the day's earlier race ensured pole-sitter Morris would need not only to hold on to first but also build a five second lead if he and Parfitt Jnr were to have any chance of making amends for losing the opening encounter after being blocked in the pits. That they did so handsomely had everything to do with an opening stint in which the Welshman bolted clear at the start and never looked back. Bell, whose McLaren had blocked the Bentley in race one, gave chase but couldn't prevent Morris from building a 13.5 second lead before the mandatory driver changes.
Parfitt Jnr and McCaig jumped aboard their respective charges one lap apart before emerging from the pit stop cycle with nine seconds separating them, a gap that would remain fairly static until the chequered flag. Indeed, just 10.5 seconds covered the pair at the finish.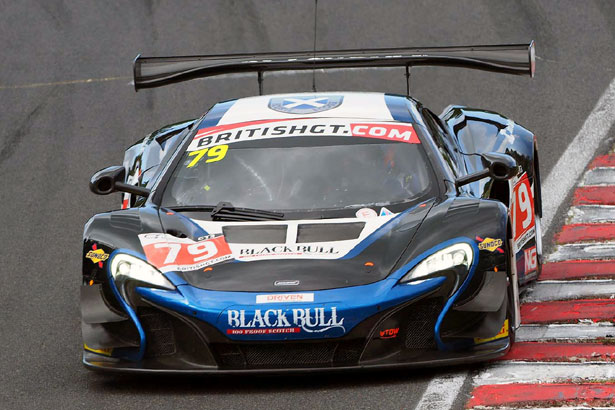 The McLaren 650S of Black Bull Ecurie Ecosse took its first series podium
Barwell Motorsport's Jon Minshaw and Phil Keen started and finished third, but not before some shuffling had taken place. The latter actually dropped to fifth at the start after Beechdean AMR's Ross Gunn and Barwell team-mate Adam Carroll jumped ahead, but both eventually fell back to give the #33 Lamborghini its second podium in three rounds. Championship leader Jonny Adam had been looking to secure a record-equalling 11th British GT3 victory this weekend but eventually had to settle for fourth in the day's second race after a solid fifth in the opener. The Scot slipped behind Carroll at the start to run sixth in the early stages before TF Sport co-driver Derek Johnston profited from a second stint drive-through penalty for Andrew Howard, who'd taken over the Beechdean AMR V12 Vantage from Ross Gunn, as well as Barwell's pit-stop success penalty, to secure more solid points.
Liam Griffin and Adam Carroll's race one victory ensured they, like Seb Morris and Rick Parfitt Jnr, would have to serve additional time during their mandatory driver change. Their 10 second handicap was sufficient only to drop them one place after Carroll's fast start helped him claim two positions on the opening lap. Howard and Gunn had the pace to finish on the podium before Beechdean AMR's pit lane infringement and subsequent penalty dropped them to sixth, one place ahead of Mark Farmer and Jon Barnes' TF Sport Aston Martin Vantage. Today's results mean Johnston and Adam have retained their lead in the Drivers' Championship, although Griffin's race one victory has seen him close the gap to 21.5 points. Parfitt Jnr and Morris are only 7 points further back in third.
Touring Car content supplied by MJP Media