British Touring Car Championship
Silverstone - Race 2 Report - 18/9/16
By MJP Media | 18 September 2016
Andrew Jordan takes his second win of the year with victory in the 2nd race at Silverstone. Adam Morgan and Tom Ingram complete the podium.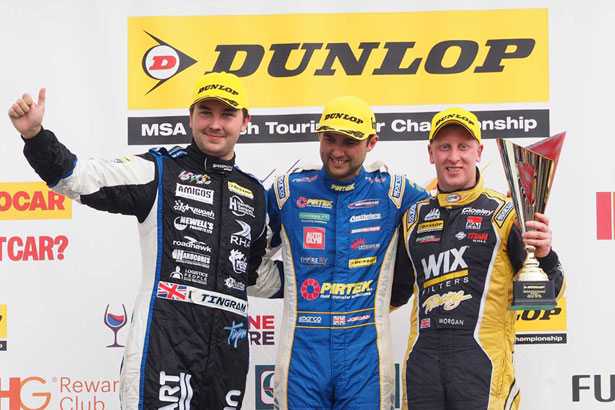 Podium celebrations for Andrew Jordan, Adam Morgan and Tom Ingram
Following their exclusion from race 1 due to technical infringements relating to the rear wings on their MG6GTs, MG Racing RCIB Insurance's Ashley Sutton and Josh Cook lined up at the back of the grid for the second Dunlop MSA British Touring Car Championship race from Silverstone however their cars would still need to carry the success ballast gained for crossing the finish line 1st and 2nd. Having been awarded the race 1 victory, Tom Ingram started race 2 in pole position alongside Andrew Jordan with Rob Austin and Adam Morgan on row 2. Starting 11th on the grid, championship leader Sam Tordoff lost most of the ballast he had to carry in race 1 after having finishing in 13th place however with the likes of Jason Plato, Colin Turkington and team-mate Rob Collard in front of him on the grid, race 2 was always going to be a challenge however his main championship rival Matt Neal had to start in 24th place after a puncture in the closing laps ruined his first race.
Tom Ingram and Andrew Jordan both got a good start to the race as did Rob Collard who moved up to 7th place on the opening lap. It wasn't long before Jordan in the Motorbase Performance Ford Focus started pushing Ingram hard for the lead, however Ingram made his Speedworks Motorsport Toyota Avensis just wide enough to retain his position. Meanwhile Ashley Sutton was on a charge, having moved up to 20th place from 30th on the grid by the end of the 2nd lap. By lap 4, Jordan was coming under serious attack from the Handy Motorsport Toyota Avensis of Rob Austin while still trying to push Tom Ingram for the lead.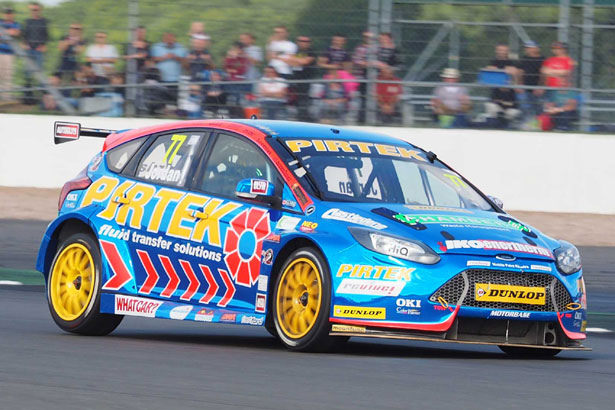 Andrew Jordan in his Motorbase Performance Ford Focus
On lap 5, Rob Austin lost two places as first Adam Morgan in the WIX Racing Mercedes Benz A-Class then Jake Hill in the RCIB Insurance Racing Toyota Avensis got past when Austin ran wide. At the front of the field, a 3-way battle for the lead soon developed with Tom Ingram defending from Andrew Jordan who was in turn being chased by Adam Morgan. Jordan took the lead from Ingram on lap 8 with Morgan also looking to pass Ingram. Morgan managed to get the nose of his car in front of Ingram however Ingram managed to retain his 2nd place after a series of exchanges. On lap 10 and while running 5th, Aron Smith's BKR Volkswagen CC suffered a puncture, ruining his race.
Out in front, race leaders Andrew Jordan and Adam Morgan extended a slender lead as Tom Ingram slipped back into the clutches of Silverline Subaru BMR Racing's Colin Turkington and Jason Plato who were having their own battle for track position having both passed Jake Hill for 4th and 5th place respectively on lap 11. On the following lap, Rob Austin's Toyota Avensis joined the ever-growing list of cars that had collected punctures around the Silverstone National circuit. With Adam Morgan pushing hard to find a way past race leader Andrew Jordan, the battle for 3rd place was intensifying between Tom Ingram, Colin Turkington and Jason Plato as Rob Collard joined the party.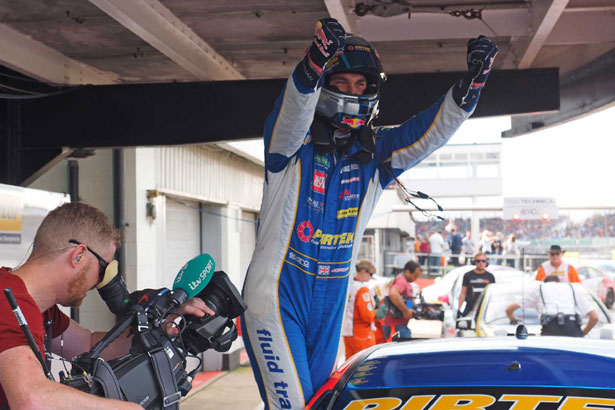 Andrew Jordan is delighted with his 2nd win of the season
The Safety Car was deployed on lap 17 to allow for the recovery of debris on the track caused by a shredded tyre ripping chunks of bodywork off Jeff Smith's Eurotech Racing Honda Civic Type R. Racing resumed a few laps later with Andrew Jordan now able to build a gap over Adam Morgan. The race ended with victory for Andrew Jordan with Adam Morgan 2nd and Tom Ingram 3rd. Colin Turkington finished 4th ahead of team-mate Jason Plato with Mat Jackson completing the top 6 positions. Rob Collard, Gordon Shedden, Aiden Moffat and Hunter Abbott rounded out the top 10.
With the number 8 ball being drawn for the reverse grid, the final race of the day from Silverstone will see defending BTCC Drivers' Champion Gordon Shedden in pole position alongside the fast-starting Rob Collard. Mat Jackson and Jason Plato will start on row 2 with Colin Turkington and Tom Ingram on row 3 and Adam Morgan and Andrew Jordan on row 4. The reverse grid draw is intended to shake up the grid for the 3rd race however this time it has succeeded in putting most of the top-flight drivers right at the front of the field! It's going to be an all-action climax to the day's racing at Silverstone.
Touring Car content supplied by MJP Media