British Touring Car Championship
Croft - Race 1 Report - 19/6/16
By MJP Media | 19 June 2016
Colin Turkington leads Jason Plato to a 1-2 finish for Silverline Subaru BMR Racing in the first race at Croft. Ashley Sutton gets his first BTCC podium finish for MG Racing RCIB Insurance with 3rd.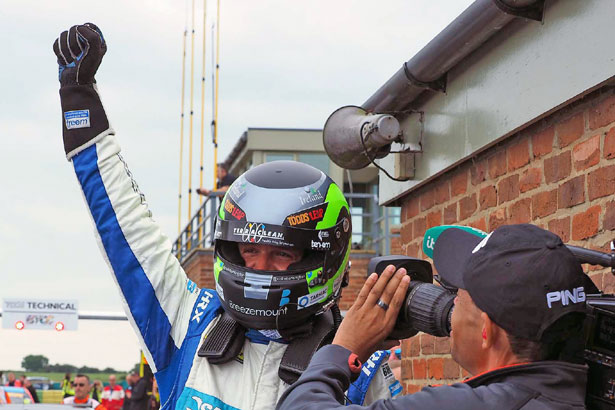 Colin Turkington is delighted with another win for the Levorg GT
Following a thrilling qualifying session yesterday at North Yorkshire's Croft Circuit it was Silverline Subaru BMR Racing's Colin Turkington who claimed pole position for the first race today, repeating his performance from Oulton Park last time out. Joining Turkington's Levorg GT on the front row of the grid was BTCC rookie Daniel Lloyd in his Eurotech Racing Honda Civic Type R. Ashley Sutton started on row two in his MG Racing RCIB Insurance MG6GT alongside Turkington's team-mate Jason Plato. Sam Tordoff and Jack Goff lined up on row three in their BMW 125i M Sports with Tordoff's car carrying a special livery to mark the 70th anniversary of JCT600.
With race one marking Rob Collard's 400th BTCC start and Gordon Shedden's 300th, the lights went out to get the day's racing under way with Jason Plato making a great start, getting his Levorg GT right behind team-mate Colin Turkington off the line. Meanwhile, Daniel Lloyd got his bonnet just ahead of Turkington but cut across the former BTCC champion into the first corner which resulted in Lloyd being tapped by Turkington, sending him into a spin, across the gravel and into the barriers causing the Safety Car was deployed.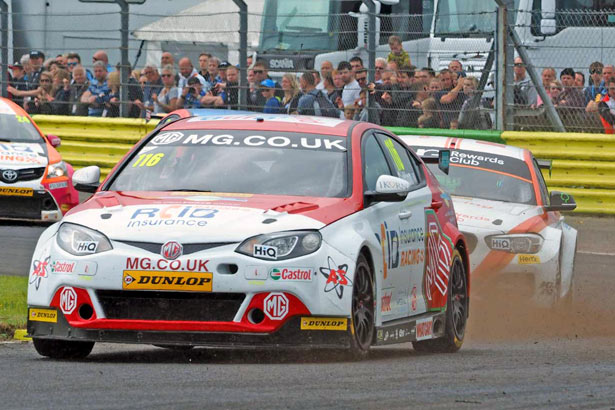 Ashley Sutton defending his position from Jack Goff
Racing resumed quickly with team-mates Colin Turkington and Jason Plato building a slight lead at the front over the next few laps. Behind, Jack Goff in the Team IHG Rewards Club BMW was trying hard to find a way past Ashley Sutton's MG6GT for 3rd place while defending from Andrew Jordan in the Motorbase Performance Ford Focus. By this time, Rob Collard had made his way up to 7th place from 16th on the grid in his Team JCT600 with GardX BMW as a battle was developing for 8th between Mat Jackson, Sam Tordoff and Tom Ingram.
With Jack Goff still pushing Ashley Sutton for 3rd place, the Safety Car was deployed again for the recovery of Mark Howard's BKR Volkswagen CC, allowing the field to bunch up. Racing resumed on lap 10 however on lap 11 Kelvin Fletcher's Power Maxed Racing Chevrolet Cruze ran into James Cole's Silverline Subaru BMR Racing Levorg GT at the hairpin following contact with Dan Welch's Goodestone Racing Proton Persona, bringing out the yellow flags in that sector.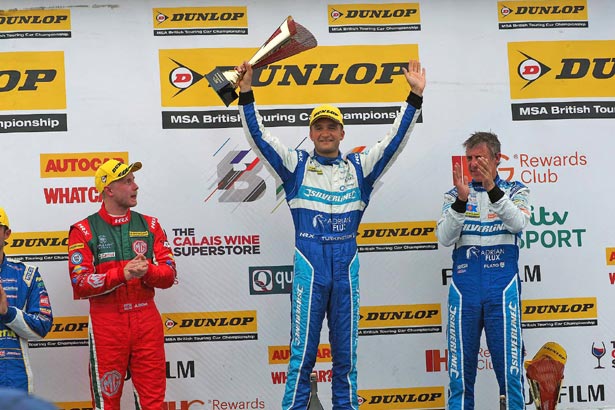 Podium celebrations for Turkington (centre), Plato (right) and Sutton (left)
A few laps later the Safety Car was deployed yet again to recover the stricken Laser Tools Racing Mercedes Benz A-Class of Aiden Moffat. Racing resumed with just two laps remaining. At the front, team-mates Colin Turkington and Jason Plato once again pulled away from the field with Jack Goff and Ashley Sutton battling for 3rd. Sutton defended his position well despite Goff's best efforts. The race ended with a 1-2 victory for Silverline Subaru BMR Racing with Colin Turkington leading Jason Plato home. Ashley Sutton held on to take 3rd, his first BTCC podium finish, with Jack Goff 4th, Andrew Jordan 5th and Jake Hill 6th.
With the grid for race two being decided by the finishing order from race one, Colin Turkington and Jason Plato will start the race on the front row with Turkington in pole position alongside his team-mate. Ashley Sutton will line up with Jack Goff on row two with Andrew Jordan and Jake Hill on row three. Rob Collard will start on row 4 alongside Mat Jackson with Tom Ingram and Aron Smith on row five. With Turkington carrying 75Kg of success ballast and Plato carrying 66Kg it will be interesting to see if Plato can get past his team-mate and take his first BTCC victory of the year.
Touring Car content supplied by MJP Media